Zhiguly Mountains on the Volga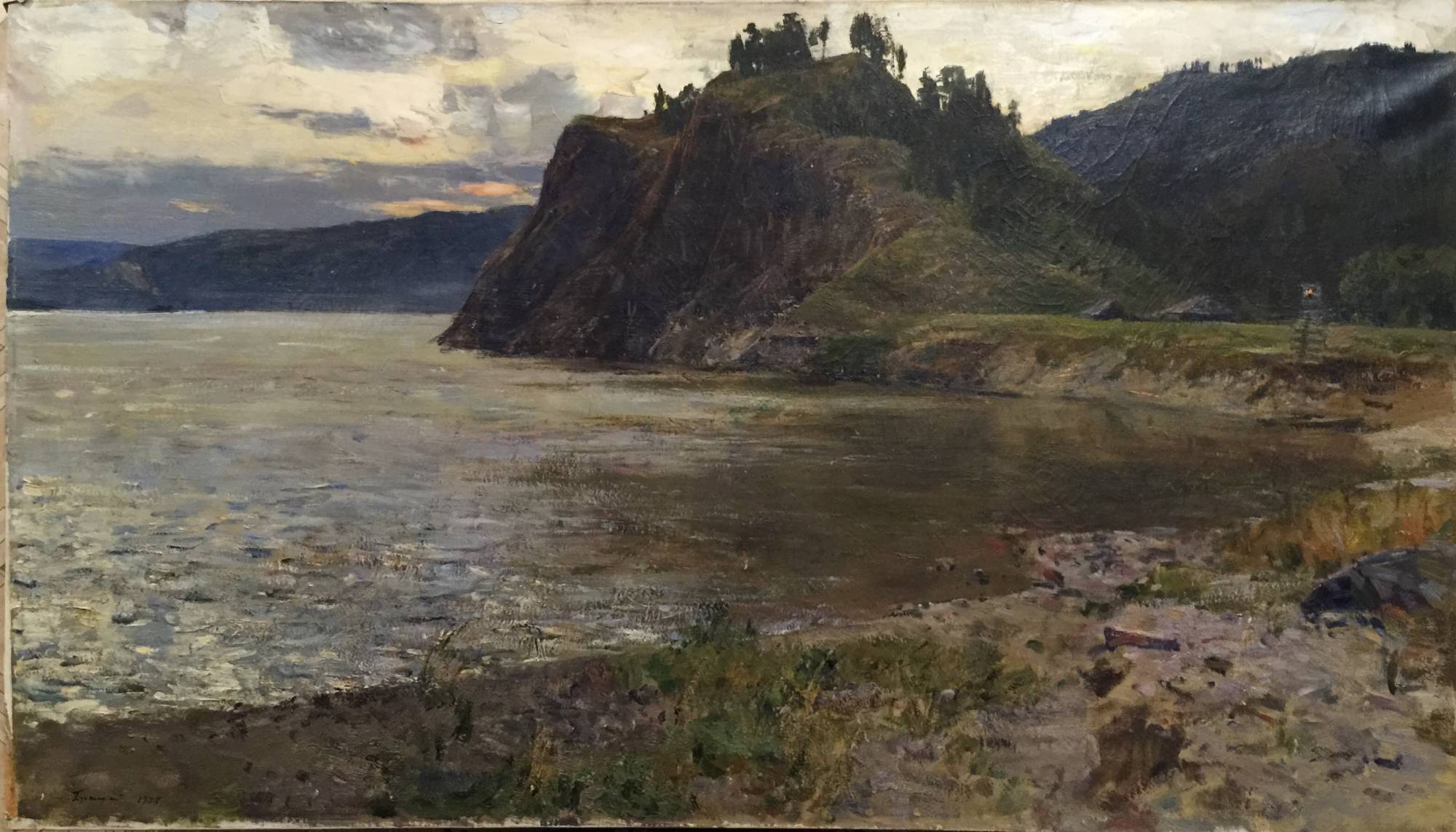 Gritsai, Aleksei Mikhailovich
1914 - 1998
Zhiguly Mountains on the Volga
Oil on canvas
57 x 100cm
1955
Signed
PROVENANCE:

Won by the previous owner in a 1950's Lottery
LITERATURE:

Certificate from the artist's son, Dmitry Gritsai.
This is an important early work by the leading Soviet-period landscape painter, Aleksei Gritsai. The Zhiguly Mountains on the Volga depicts a broad sweep of the Volga River with the mountains dropping steeply down to the river. There are a few fishing huts on the right and an expansive glittering reach of river stretching out to the left.
The Zhiguli Mountains (/ʒiːɡuːˈliː/; Russian: Жигулëвские горы [Zhigulyovskiye gory]) or simply Zhiguli (Russian: Жигули́), sometimes called The Zhiguli Heights - Жигулëвская возвышенность [Zhigulyovskaya vozvyshennost], are a range of wooded mountains located in Russia on the right bank of the Volga River, in the Samara bend. The mountains are an important source of limestone and oil (extracted since the Great Patriotic War (World War II)) and are also popular as a scenic area for local and regional tourism. Their altitude reaches a maximum of c. 1,240 ft (380 m). The range is named for a nearby town Zhigulyovka (no longer extant), itself probably named for an early inhabitant, Zhegul (Russian: Жегуль). Formerly, the range was known as the Lada, after the river pirates who used to hide out in its wooded valleys, a name which is still in popular local usage today.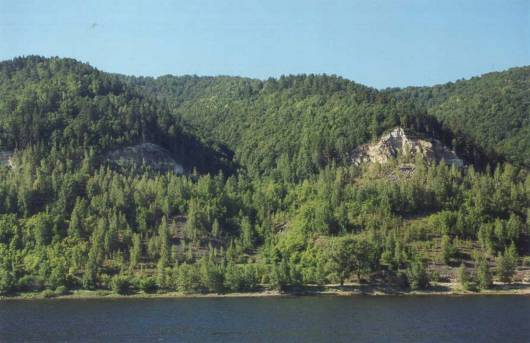 The Zhiguli Mountains today
Aleksei Mikhailovich Gritsai (Russian: Алексей Михайлович Грицай; 1914–1998). From 1924 to 1931 he studied in Leningrad in the studios of S.M. Zaidenberg and from 1932 to 1939 at the Academy of Arts under P.S. Naumov, Yakovlev, and Isaak Brodsky.
Gritsai became best known as a landscape painter with a deep appreciation for the power of nature to provide inspiration for humanity. He believed that since humans are a part of nature they can find joy and consolation through positive interaction with it. Due to the reduced mobility brought by sickness at the end of his life, he was unable to work directly in nature and had to rely on his memory. Because of this, much of his final work is imbued with the poignancy of reminiscence.
Gritsai was a People's Artist of the USSR (Russian: Народный Художник СССР; 1974), an academician of the USSR Academy of Arts (1964), the laureate of two Stalin Prizes (1951 and 1952) and one USSR State Prize (1978).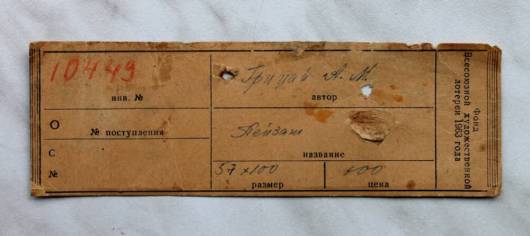 Label on reverse
Back to Russian Art