Nude - Dancer V. Maleeva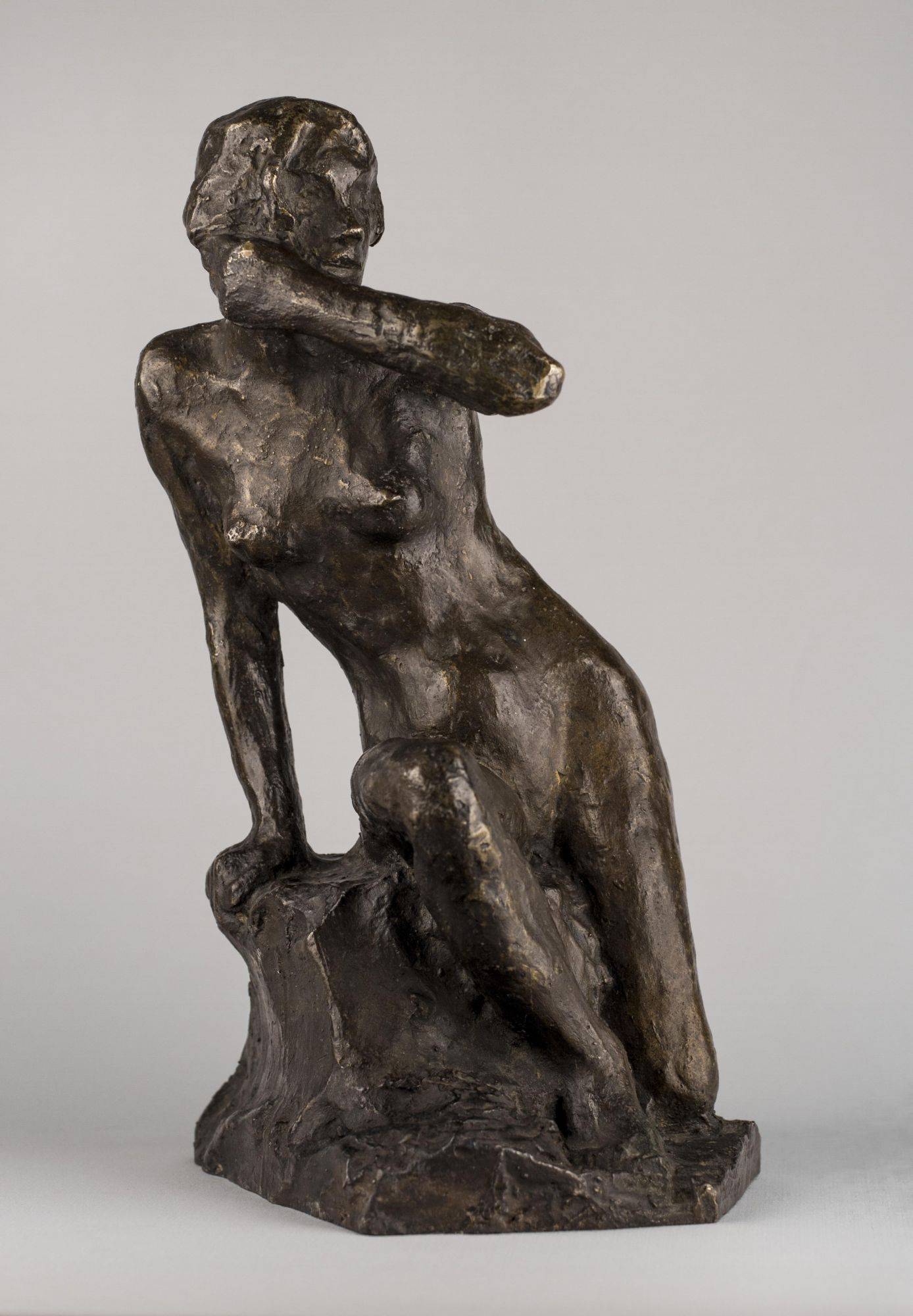 Korolev, Boris Danilovich
1884 - 1963
Nude - Dancer V. Maleeva
Bronze
39.2cm
1928
PROVENANCE:

Private Collection, Mosocw
LITERATURE:

In the Korolev Literature
Certificate from Luidmilla Marts, curator of second half of the 20th century at the Tretyakov Gallery
Nude - Dancer V. Maleeva is beautiful study of the female form. Korelev, one of the most talented of the first generation of Soviet Sculptors depicts the famous ballerina Vera Maleeva sitting whilst stretching an arm around the side of her head, possibly adjusting her hair. Such unusual poses were often used by Korolev who seemed to delight on giving himself difficult and challenging compositions to master. The pose, although usual, is entirely convincing, and the result is a beautiful and memorable nude study. The bronze has a glow derived from a light green patination over the honey coloured metal. Many of the bronzes of this pre-war period were melted down for their metal to be used in gun manufacture during World War II and this magnificent statue is a rare survival outside of a museum.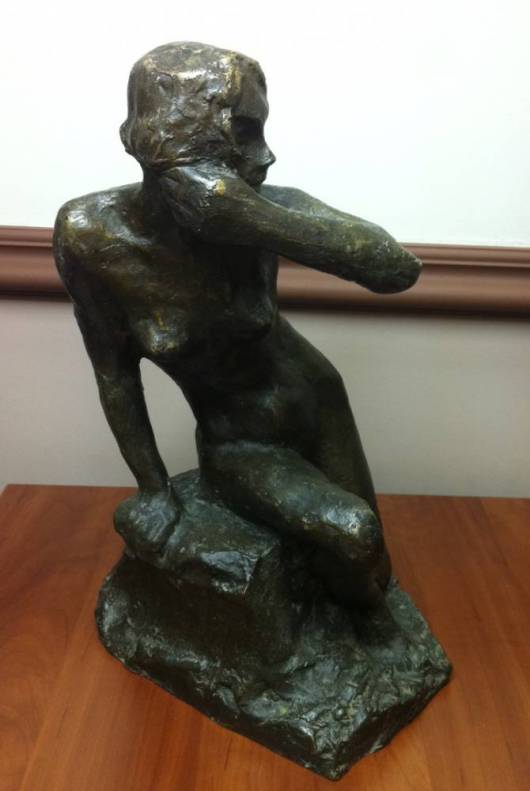 Korolyóv stands at the origins of the Soviet school of sculpture, its mainstream, but he also was one of the leading figures in the avant-garde movement. In 1920s he played a prime role in the realization of Lenin's plan of monumental propaganda. In his own sculptural works Korolyóv combined Realism with elements of Impressionism and Cubism.
Born in Moscow and educated at the Moscow School of Painting, Sculpture and Architecture under Sergei Volnukhin, Korolev was a committed revolutionary, deported twice for his political activity, and a leading figure of avant-garde sculpture in revolutionary Russia.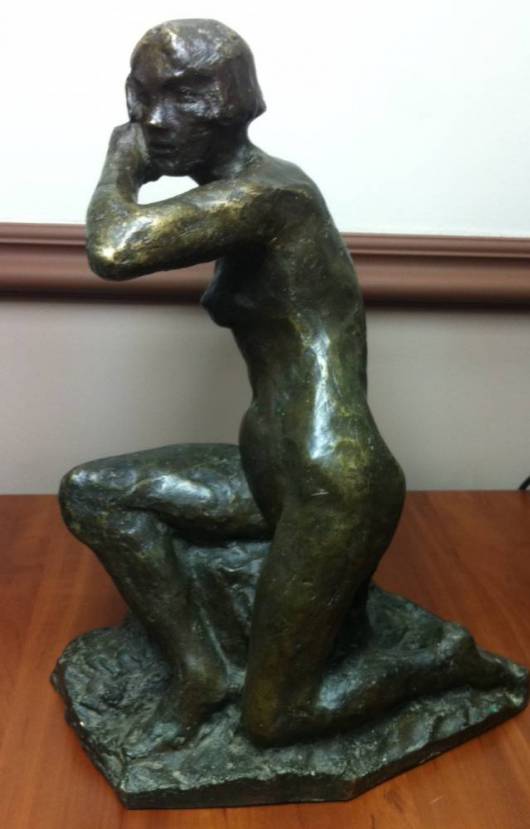 He was an active participant in the execution of Lenin's Monumental Propaganda Plan of April 1918, which encouraged the destruction of Tsarist monuments and the rapid production of Soviet-themed sculptures and bas-reliefs. Unfortunately Korolev's rapidly produced 1919 concrete statue of Mikhail Bakunin, done in a Cubo-Futurist style and set up in Moscow, proved to be deeply unpopular and was dismantled within weeks.
Despite changing tastes, Korolev continued working in Cubist style into the 1920s, and became professor of sculpture at the Soviet state art school, Vkhutemas. In 2009 he was the subject of a major retrospective at the Tretyakov Gallery.[1]
Korolev is buried in Novodevichy Cemetery[2]
Significant works include:
the granite Fighters of the Revolution in Saratov, completed in 1925, with a cubist base
bronze and granite figure of Nikolay Bauman, Moscow, 1931

a number of statues of Lenin, including a bronze of Lenin in Independence Square of Tashkent, completed in 1936 and replaced in 1991
Bol'shaya sovetskaya entsiklopediia (the Great Soviet encyclopedia) (3d ed., vol. 13). (1973). Moscow.: Izdatel'stvo "Sovetskaya Entsiklopediya".
Grabar, I. (Ed.). (1957). Istoriya Russkogo Iskusstva (The History of Russian Art) (Vol. XI). Moscow: USSR Academy of Sciences.
Latushkin, A.V. (1986). Pam'yatnik N.E. Baumanu (Monument to N. Bauman in Moscow). Moscow: Moskovskiy rabochiy.

Fomina, N.N., Yakhont, O.V. (1989). Korolyov, B.D. Iz literaturnogo naslediya. Perepiska. Sovremenniki o skul'ptore (Korolyóv, B.D. Excerpts from archives and published literary works. Correspondence. Contemporaries on the sculptor. Moscow: Sovetskiy khudozhnik.

Online Biography in Russian http://www.krugosvet.ru/enc/kultura_i_obrazovanie/izobrazitelnoe_iskusstvo/KOROLEV_BORIS_DANILOVICH.html
Back to Sculpture