Natalia Dudinskaya in the role of 'Aurora' in Tchaikovsky's 'Sleeping Beauty.'
Yanson - Manizer, Elena Alexandrovna
1890 - 1971
Natalia Dudinskaya in the role of 'Aurora' in Tchaikovsky's 'Sleeping Beauty.'
Painted gyps
50cm high
1938
PROVENANCE:

Iconastas Gallery, Burlington Arcade, London
In this beautiful portrayal of Natalia Dudinskaya pirouetting on her toes as she arches to her right Yanson-Manizer has captured the grace, poise and strength of one of the Soviet period's most loved ballerina's. The pose reveals the timeless elegance of one of ballets signature moves and instantly transports the viewer back to memorable nights at the Bolshoi or Kirov.
This is the sculpture, executed by Yanson - Manizer in gyps in 1938, that was later used by the Lomonosov State Porcelain Factory in Leningrad to make their porcelain versions of this sculpture. The porcelain versions are smaller at 39cm high.
Elena Yanson-Manizer or Janson-Maniser was the 20th century's leading sculptor of the Soviet ballet. Her beautiful statues of sportsman and ballet dancers can be seen today in the public gardens of Moscow and St Petersburg and in the stations of the Moscow Metro.
Yanson-Manizer was the wife of the sculptor Matvei Manizer and they worked together in different parts of the same Moscow Studio. Her husband, also one of the Soviet Period's most important sculptors, had to follow the party-line more than his wife in his choice of subject matter and did many public commissions. Yansen-Manizer loved the ballet and sculpted most of the leading dancers of the mid 20th century.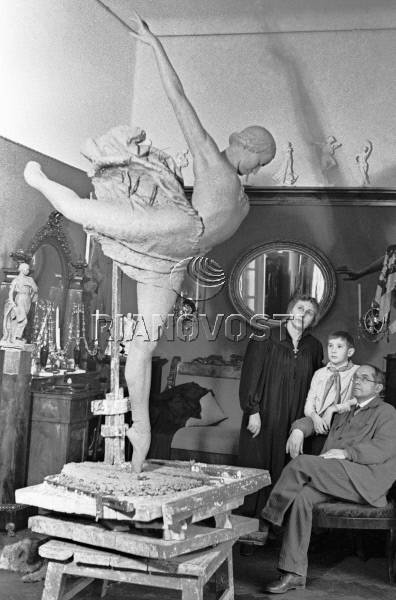 Yanson-Manizer in her studio with her son Otto and her husband, the famous sculptor Matvej Manizer. They are admiring the magnificent overlife size sculpture of the ballerina Galina Ulanova.
Being a fervent admirer and subtle connoisseur of ballet Yansen-Manizer suceeded in portraying the individuality of each dancer as well as their elegance and athleticism.
Back to Sculpture