Plisetskaya dancing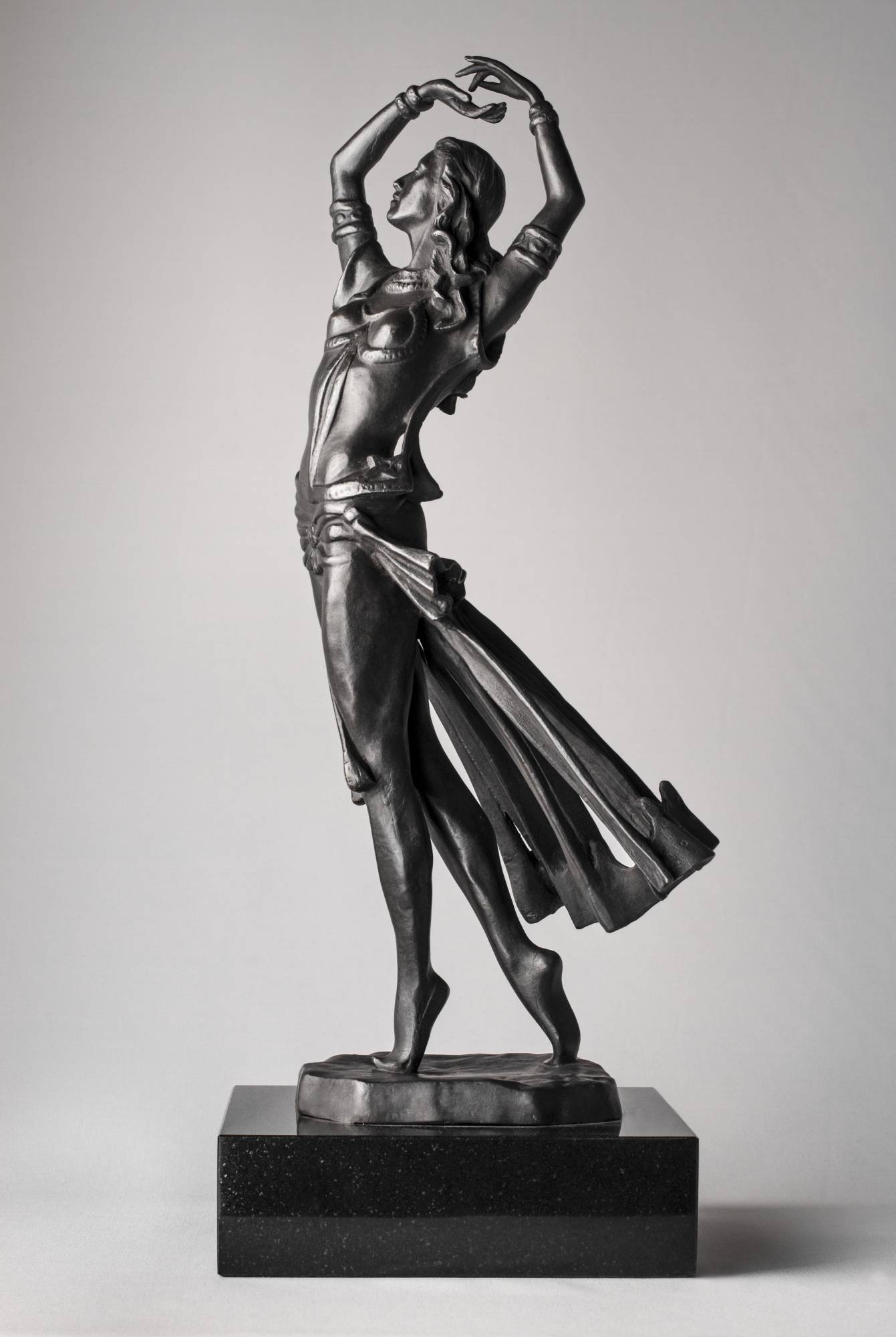 Yanson - Manizer, Elena
1890 - 1971
Plisetskaya dancing
Bronze
51 x 19 x 19cm
1959
PROVENANCE:

Moscow private Collection
EXHIBITED:

Another version was exhibited in the exhibition "Art Russe Collection of 20th Century Soviet Art: War and Peace," illustrated on p. 246 of the Unicorn Press catalogue, October 6 - December 10th 2015, Emirates Palace, Abu Dhabi.
LITERATURE:

Soviet Ballet in the work of Elena Yanson Manizer, PCFCP, Leningrad, 1965, the plaster and porcelain versions illustrated as No's 70 and 71.
Maya Mikhailovna Plisetskaya (20 November 1925 – 2 May 2015) was a Soviet ballet dancer, choreographer, ballet director, and actress, who held in post-Soviet times Spanish and Lithuanian citizenship. She danced during the Soviet era at the Bolshoi Theatre under the directorships of Leonid Lavrovsky, then of Yury Grigorovich; later she moved into direct confrontation with him. In 1960 when Galina Ulanova, another famed Russian ballerina retired, Plisetskaya became prima ballerina assoluta of the company.
Her early years were marked by political repression.Her father Mikhail Plisetski who was a Soviet official, has been arrested in 1937 and executed in 1938, during the Great Purge. Her mother actress Rachel Messerer was arrested in 1938 and spent few years in prison, then in concentration camp together with her infant son Azari. Older children were faced the threat of an orphanage, Maya was adopted by her aunt Sulamith Messerer, and Alexander was taken by her uncle Asaf Messerer; these two relatives of Rachel were the principal dancers of the Bolshoi.
Plisetskaya studied ballet at The Bolshoi Ballet School from age nine and first performed at the Bolshoi Theatre when she was eleven. She studied ballet under the direction of Elizaveta Gerdt and also her aunt Sulamith Messerer. Graduated in 1943 at the age eighteen, she joined the Bolshoi Ballet company, quickly rising to become their leading soloist. In 1959 during Thaw Time she started to tour outside the country with the Bolshoi, then on her own. Her fame as a national ballerina was used to project the Soviet Union's achievements during the Cold War. Premier Nikita Khrushchevconsidered her "not only the best ballerina in the Soviet Union, but the best in the world."
As an artist Plisetskaya had an inexhaustible interest in new roles and dance styles. As a member of the Bolshoi until 1990, her skill as a dancer changed the world of ballet, setting a higher standard for ballerinas both in terms of technical brilliance and dramatic presence. As a soloist, Plisetskaya created a number of leading roles, including Juliet in Lavrovsky's Romeo and Juliet; Phrygia in Yakobson's Spartacus (1958); in Grigorovich's ballets : Mistress of the Copper Mountain in The Stone Flower (1959); Aurora in The Sleeping Beauty(1963); Mahmene Banu in The Legend of Love (1965); Alberto Alonso's Carmen Suite (1967), written especially for her; and Maurice Bejart's Isadora (1976). Among her most acclaimed roles were Kitri in Don Quixote, Odette-Odile in Swan Lake and The Dying Swan, first danced as a pre-graduate student under the guidance of Sulamith Messerer. A fellow dancer stated that her dramatic portrayal of Carmen, reportedly her favorite role, "helped confirm her as a legend, and the ballet soon took its place as a landmark in the Bolshoi repertoire." Her husband, composer Rodion Shchedrin, wrote the scores to a number of her ballets.
Having become "an international superstar" and a continuous "box office hit throughout the world," Plisetskaya was treated by the Soviet Union as a favored cultural emissary. Although she toured extensively during the same years that other dancers defected, including Rudolf Nureyev, Natalia Makarova and Mikhail Baryshnikov, Plisetskaya always refused to defect. In 1991 she published her autobiography, I, Maya Plisetskaya.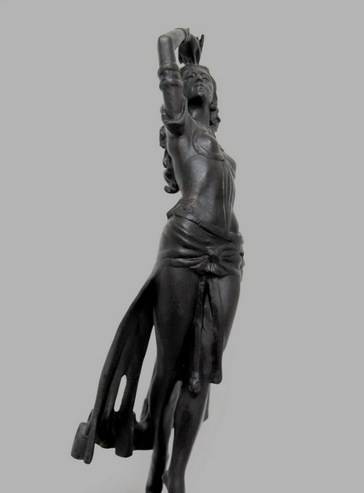 Plisetskaya from the front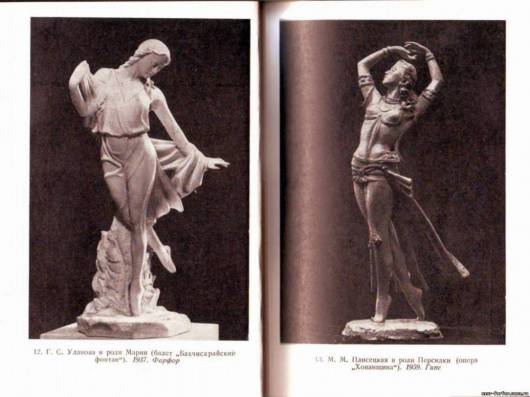 An old catalogue of the work of Elena Yanson-Manizer (above).
'Soviet Ballet in the work of Elena Yanson - Manizer'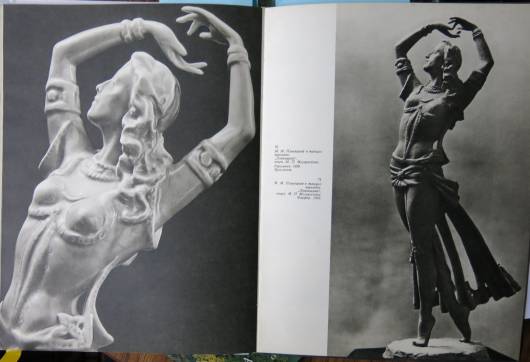 The porcelain and plaster versions of 1959 illustrated in 'Soviet ballet in the art of Elena Yanson - Manizer,' No's 70 amd 71.
Elena Yanson-Manizer or Janson-Maniser was the 20th century's leading sculptor of the Soviet ballet. Her beautiful statues of sportsman and ballet dancers can be seen today in the public gardens of Moscow and St Petersburg and in the stations of the Moscow Metro.
Yanson-Manizer was the wife of the sculptor Matvei Manizer and they worked together in different parts of the same Moscow Studio. Her husband, also one of the Soviet Period's most important sculptors, had to follow the party line more than his wife in his choice of subject matter and did many public commissions. Yansen-Manizer loved the ballet and sculpted most of the leading dancers of the mid 20th century.
Being a fervent admirer and subtle connoisseur of ballet Yansen-Manizer suceeded in portraying the individuality of each dancer as well as their grace and athleticism.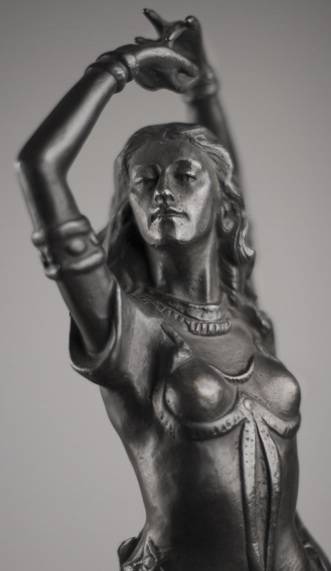 Plisetskaya sat for Yanson - Manizer in 1959 which led to several famous sculptures, including the one under discussion, which was cast in plaster, porcelain, bronze and silumin.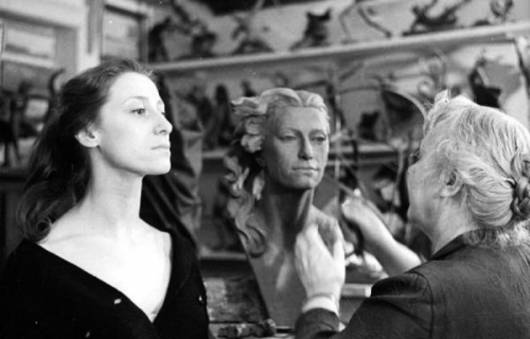 Yanson - Manizer sculpting Plisetskaya in her studio in 1959.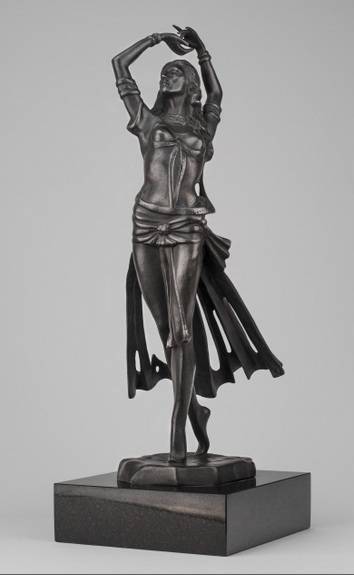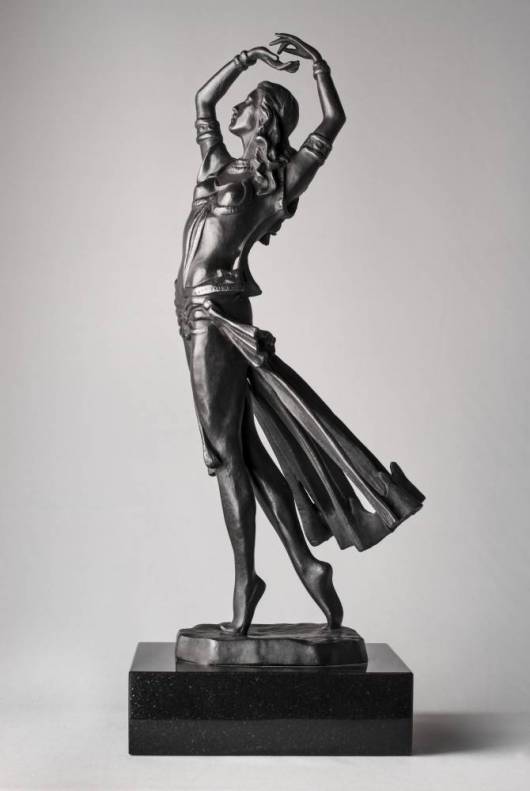 Back to Sculpture