Girl in headscarf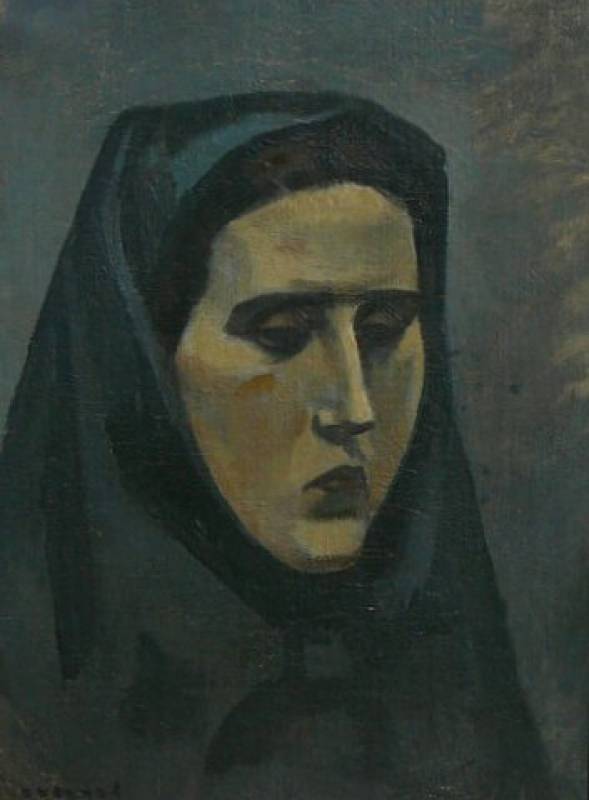 Ivanov, Victor Ivanovich
1924 -
Girl in headscarf
Oil on board
44 x 32.5cm
c 1960
Signed
PROVENANCE:

Collection of the artist
LITERATURE:

Certificate from the artist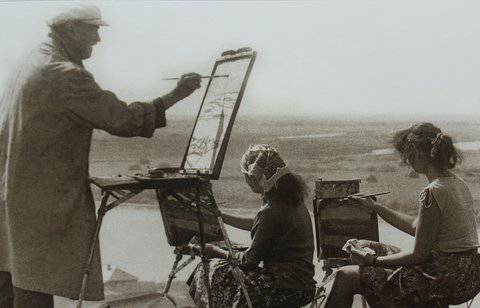 Victor Ivanov teaching students circa 1950's
Victor Ivanov said in an interview in 2009 that he particularly liked this girl's angular face and he used her in many of his paintings and made several portraits of her. These can be seen scattered through the books dedicated to the artist's works. Ivanov said that Russian girls have 2 distinctive types of faces, the round with the wide set slavic eyes and this type with a thin face and long angular classical nose.
This particlular portrait was made in preparation for Ivanov's huge multi figure Funeral composition which is now in the Victor Ivanov museum in Ryazan(as below).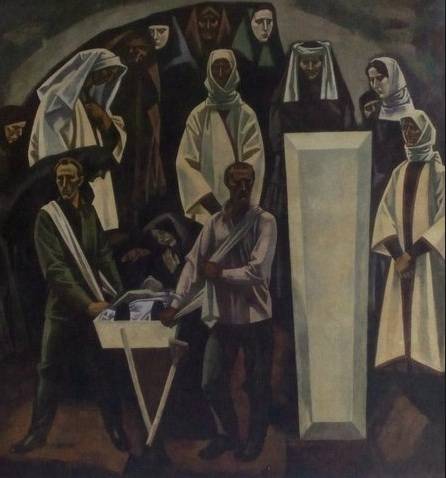 Girl in a headscarf in a fine example of the 'Severe Style' which was advanced by a group of artist's such as Petr. Ossovsky and Geli Korzhev after WW11 as a challenge to the dominant Socialist Realism school and as their response to the austerity of the past war years.
In Girl in a headscarf all unecessary form is edited out. It is reduced to portayal by line and colour alone and in its simplicity has a hauntying beauty which was intended as an antidote to the smiling faces and sunny days of Socialist Realism.
The Ryazan area where Ivanov's mother was born, and where the Victor Ivanov museum is now to be found attached to the Ryazan State Museum, was the main inspiration of his art and he felt a spiritual attachment to the land. There he sought inspiration, and all his most powerful images were born there. In the village, all human life was there from the first day till the last.
The artist saw in this place the truest merging between man and nature, redemption of a kind, and the preparation for the peace of eternity. He saw the monumental and yet romantic greatness of country work and life. Simple village objects in Ivanov's pictures become meaningful symbols of rural life, measured and at the same time somehow eternal. All this attains a sense of the highest solemnity and creates an atmosphere of deep significance, an intense emotional envelope. "Our art was magnificent, we created works which it seemed to us, did not distort reality in any way," - Victor Ivanovich recalls. – "This was the Truth of our time and this Truth has always been most important for my art. I believe in realism. It gives us strength, speaks of beauty both physical and moral. Realism is the highest art; history shows nothing to equal it."
Although Ivanov paints in his own distinctive style he believes that he continues the Russian landscape tradition established by such artists as Levitan and Korovin. Such paintings have an eternal quality where time is suspended. The colours are harmonious and the paintings have a still peaceful air. Instantly recognizable as by Ivanov his paintings are considered works by one of Russia's greatest post war artists who was given all Russia's greatest artistic awards such as becoming an Academician in 1988 and a 'Peoples' Artist of the USSR in 1976. Ivanov's self portrait has been accepted by the Uffizi picture gallery in Florence and hangs in their famous collection of self-portraits on show in the Pitti palace. Ivanov has had countless exhibitions in Russia, Ukraine and Cuba. As one of Russia's leading artists he was allowed to travel outside of the USSR and between 1959 and 1962 he visited Egypt, Syria, Italy, Cuba and Mexico.
Victor Ivanov on the Oka river
Ivanov has stated: "I agree with the famous claim by Levitan that it is possible to be a true landscape painter only in Russia! Indeed the Russian landscape is spiritual and it conveys what is truly important - ideas and feelings".
Back to Russian Art