Still Life with Antique Head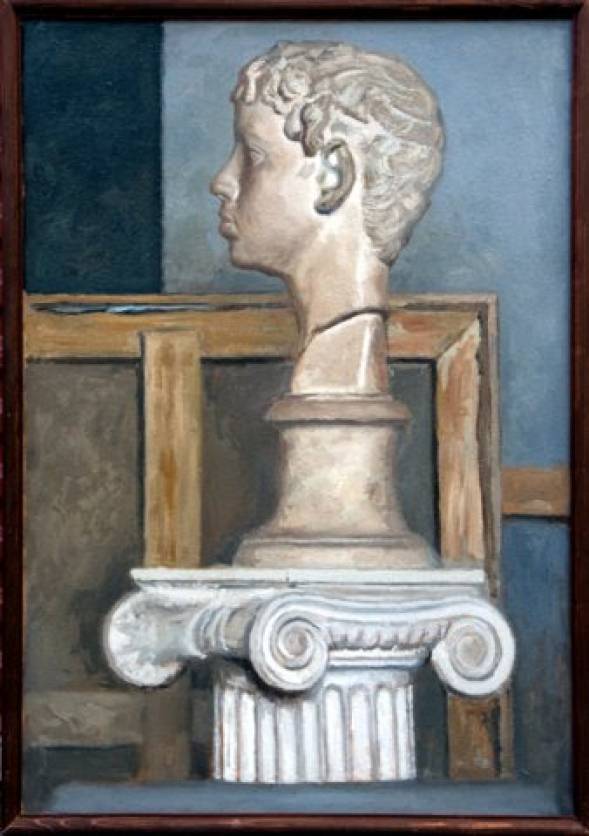 Korzhev, Geli Mikhailovich
1925 -
Still Life with Antique Head
Oil on board
99 x 69.3cm
Signed on reverse
PROVENANCE:

Collection of the artist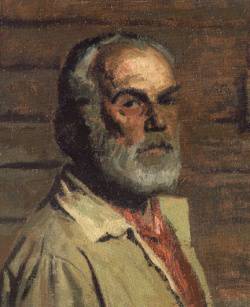 Gely Mikhailovich Korzhev-Chuvelev (born 7 July 1925) is a leading Russian painter of the Soviet period. The artist studied at the Moscow State Art School from 1939 to 1944 under V. V. Pochitalov, M.V. Dobroserdov and A.O. Barshch. From 1944 to 1950 he studied at the Moscow State Art Institute under S.V. Gerasimov and V.V. Pochitalov. A painter in the Soviet approved style of Socialist Realism he was a founder of the 'Severe Style,' continues to be active today, and remains a supporter of Communism.
Korzhev's work is well represented in the Tretyakov Gallery and the Russian Museum and he remains one of the most of the most influential Russian painters of the second half of the 20th century.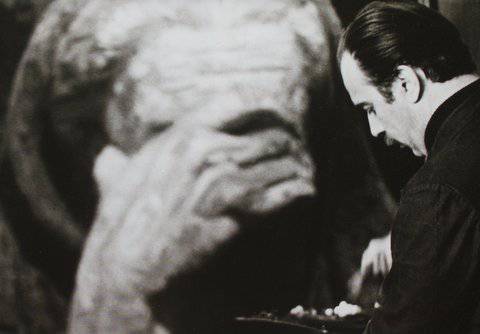 Korzhev working on Mother
Much revered in Russia for past 30 years the artist now has a growing international reputation and in 2007 had his first international exhibition at the Russian Museum in Minneapolis. The Tretyakov curators have been trying unsuccessfully to persuade the artist to have a retrospective at their museum in Moscow for many years.
Still Lifes constitute an important part of this artist's output and he is well known for his carefully balanced compositions and his ability to successfully render different textures in paint. Still Life with Antique Head is an unusually good example of a Korzhev still life.
The various props such as the Antique Boy's head and the Doric column were favorite props of the artist and appear in many of his paintings.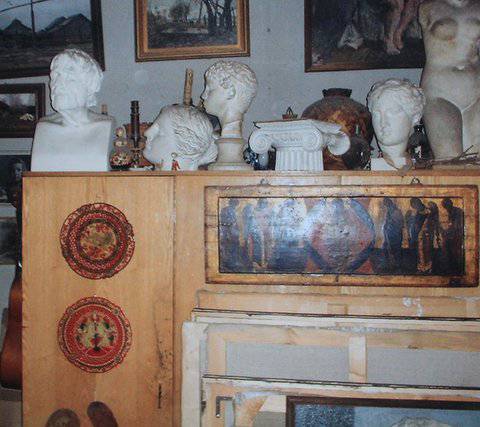 Korzhev's studio with the boy's head and the column
Although the arrangements of objects look like they were casually arranged in fact the artist places the objects very carefully to create a balanced and harmonious composition. Each object is made of a different material and the artist has managed to differentiate between the various textures.
Korzhev always had an eye for interesting objects, which he could use in his still life studies, and he collected these from his numerous travels around the Russia. He has said that he used his still life painting as practice to work out problems and experiment and he has observed in the rare interviews he has given that he believes that in time his still lifes will come to be considered amongst his most important work. Sometimes Korzhev kept still lifes for many years constantly reworking them trying to resolve painterly problems.
When discussing this work, Still Life with Antique Head, the artist said he started learnt how to paint by copying classical busts whilst at art school. Later, when he could afford it, he bought some plaster copies such as this boy. He said that most artists would not dare to paint half a picture frame and the boy's head so close to the top of the picture but he did it deliberately and was satisfied that he still managed to create a harmonious composition.
Back to Russian Art