Still Life with Flask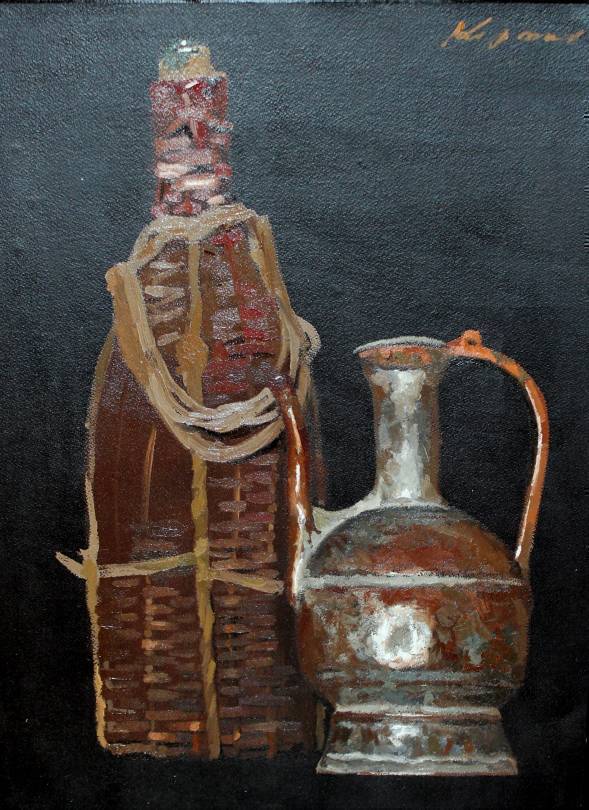 Korzhev, Geli Mikhailovich
1925 - 2012
Still Life with Flask
Oil on board
76.2 x 56cm
signed
PROVENANCE:

Collection of the artist
Bought from the artist by the current owner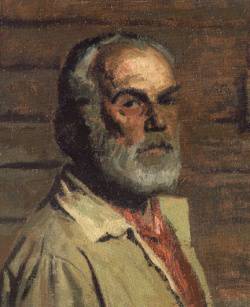 Gely Mikhailovich Korzhev-Chuvelev (born 7 July 1925) is a leading Russian painter of the Soviet period. The artist studied at the Moscow State Art School from 1939 to 1944 under V. V. Pochitalov, M.V. Dobroserdov and A.O. Barshch. From 1944 to 1950 he studied at the Moscow State Art Institute under S.V. Gerasimov and V.V. Pochitalov. A painter in the Soviet approved style of Socialist Realism he was a founder of the 'Severe Style,' he remained active while painting every day up until his death in 2012. A man of contrasts, he remained a supporter of Communism while exploring Christian themes in his art during his last decade. Well versed in European Old Masters his favorite painter was Rembrandt and he made extensive studies of his work in the Pushkin and Hermitage museums.
Korzhev's work is well represented in the Tretyakov Gallery and the Russian Museum and he remains one of the most of the most influential Russian painters of the second half of the 20th century.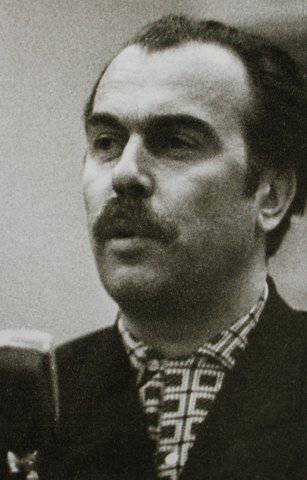 Korzhev speaking to an assembly at the House of Youth, 1960
Much revered in Russia for past 30 years the artist now has a growing international reputation and in 2007 had his first international exhibition, 'Raising the Banner' at the Russian Museum in Minneapolis(TMORA). The Tretyakov curators tried unsuccessfully to persuade the artist to have a retrospective at their museum in Moscow for many years. Korzhev never gave a reason for declining the show (which was finally held to great acclaim after his death) but Natalya Alexandrovna, the former Curator of Twentieth Century paintings at the Tretykaov Gallery has said she believes it was a lack of self confidence, a trait he did not seem to suffer from when met in person. He was good company and always enjoyed visitors coming to his studio and discussing a wide variety of subjects over a drink.
Still Lifes constitute an important part of this artist's output. 'Still Life with Flask' is an fine example of a Korzhev Still Life and displays all the characteristic elements for which the artist became famous such as the depiction of texture and composition. The subject matter is simple with only two items, the flask and the metal jug. These two props were favorites of the artist and lived in his studio where he used in them in many still life paintings.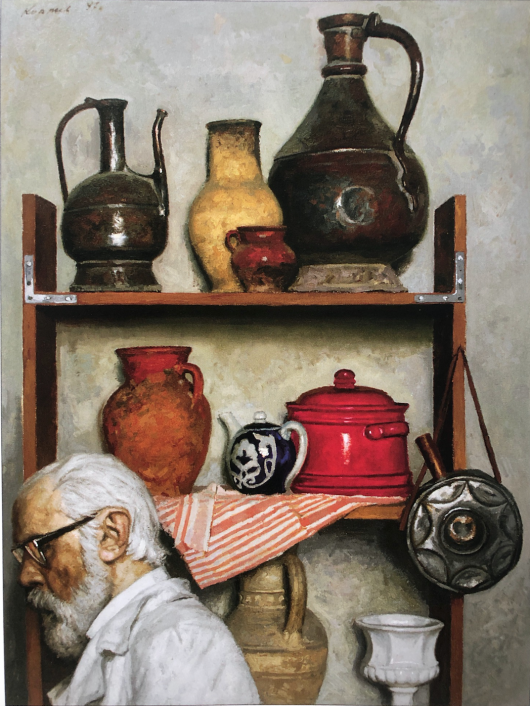 Still Life with Self Portrait, 1997, Oil on Canvas, 63 1/8 x 47 1/4ins, Private Collection, USA, with a similar, possibly the same, metal flask as 'Still Life with Flask' top left.
Although the arrangements of objects look like they were casually arranged in fact the artist situates the objects very carefully to create a balanced and harmonious composition. The balance and the delight in texture make these paintings very satisfying to look at. The black background provides no distractions.
Korzhev always had an eye for interesting objects, which he could use in his still life studies, and he collected these from his numerous travels around the extremities of Russia. He has said that he used his still life painting as practice to work out problems and experiment and he has observed, in the rare interviews he has given, that he believes that in time his still lifes will come to be considered among his most important work. While working on large scale multi-figure works he always had a still life on the go in the studio to which he would return during breaks from the larger works.
Back to Russian Art