Venice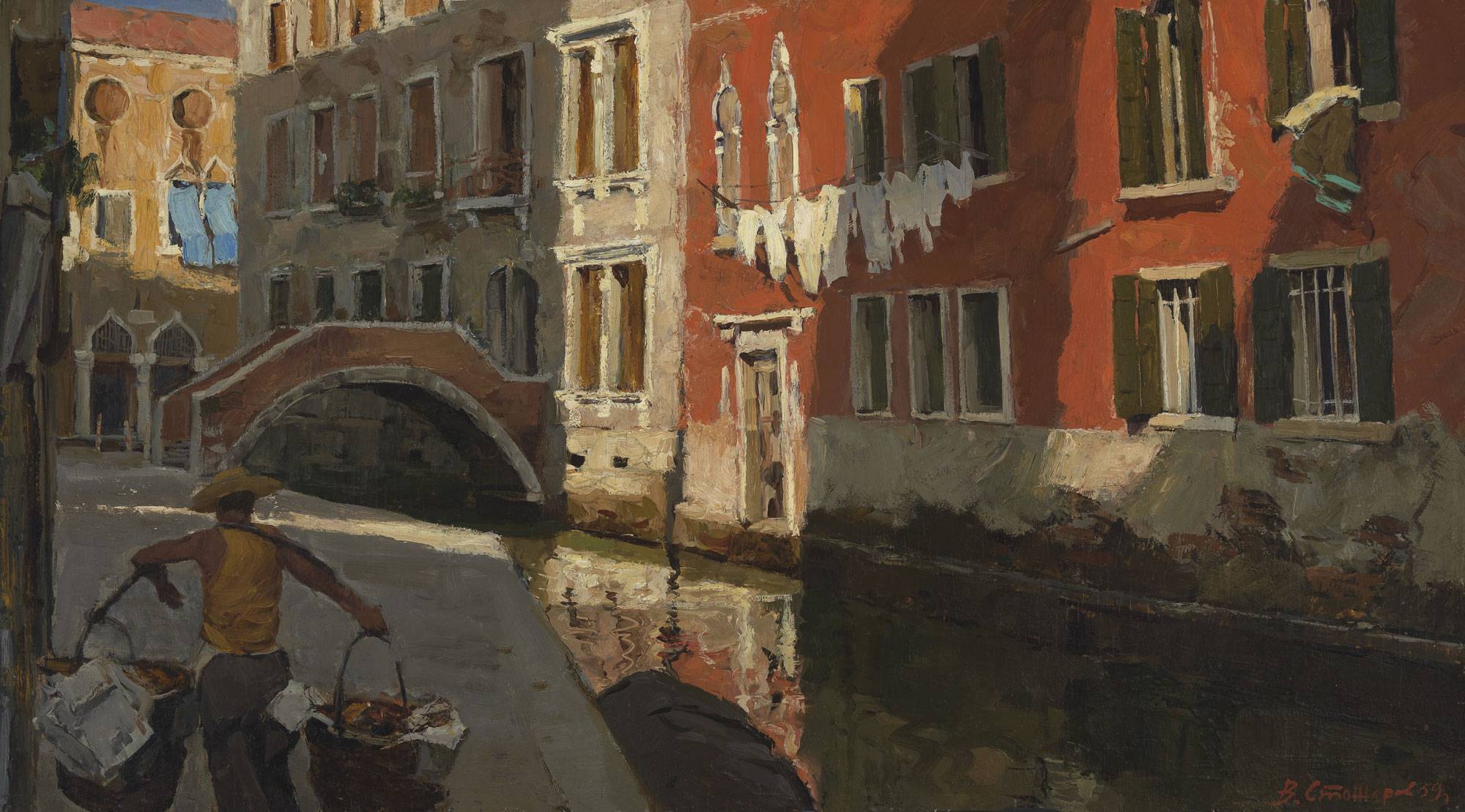 Stozharov, Vladimir Fedorovich
1926 - 1973
Venice
Oil on wood panel
53 x 93cm
1959
LITERATURE:

Stozharov, Catalogue Raisonee, Moscow 2006, illustrated p.34.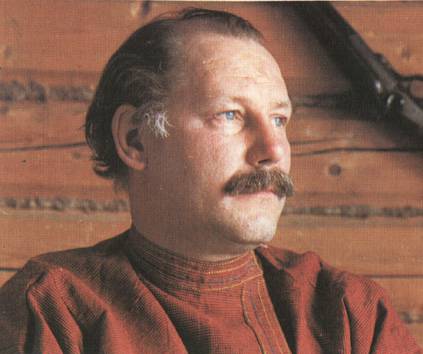 This beautiful painting of a canal was painted by Stozharov's on his first visit to Venice in 1959. The wife of the painter said it was her favorite painting by her husband and she kept it in their dacha outside Moscow until a few years ago. The artist, Valentin Sidorov, President of the Moscow Union of Artists, remembers Stozharov painting this work as he was on the same trip to Venice and he said the group of artists all stayed in a pensione just around the corner from this canal and that, because they didnt have any money, they had to pay for everything by giving away sketches and paintings.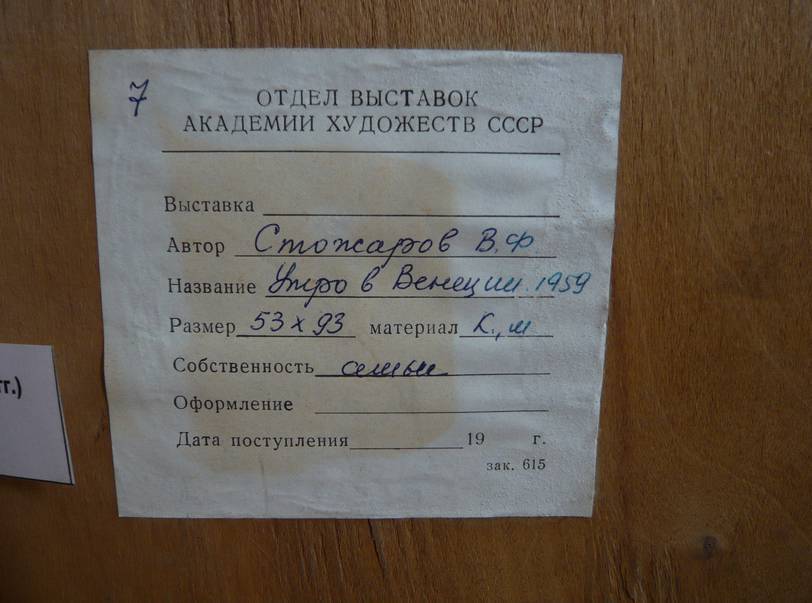 A man carries a heavily laden pannier and washing hangs drying from the windows. The sharp Italian sun reflects off the terracotta coloured walls. The sunshine alternates with deep shadows and a distinctive Venetian brick bridge crosses the canal.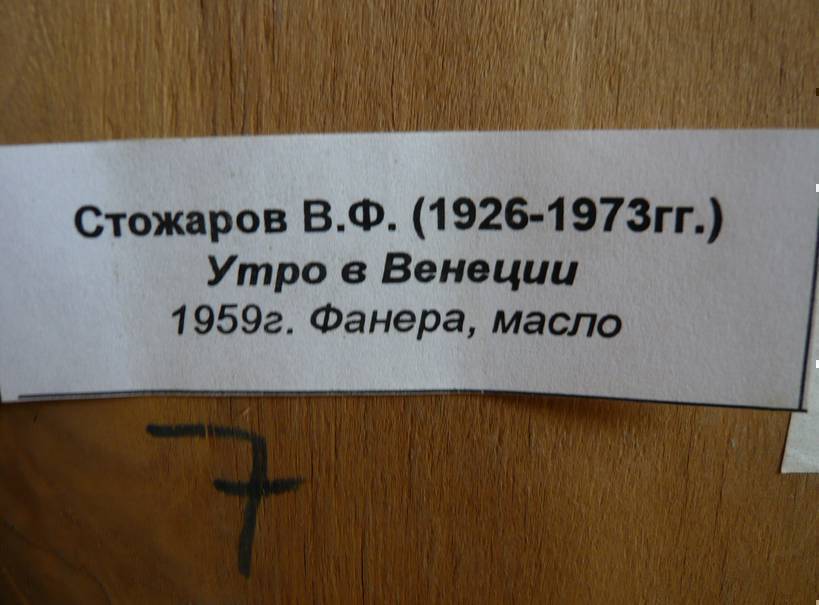 This painting is, in addition to being a beautiful rendition of Venice's charms, an important response to the challenges of painting Venice by one of Russia's leading landscape painters of the mid 20th century.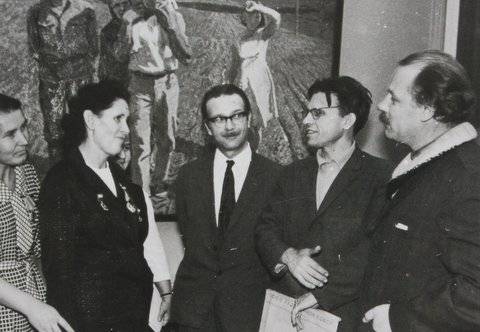 Stozharov with Sergei Tkachev in 1965
Stozharov Foundation- http://www.stozharov.com/index.php?id=93〈=eng
Vladimir Fedorovich
Stozharov-
(1926, Moscow – 1973, Moscow)
(

Vladimir Fiodorovich
Stojarov,
Стожаров Владимир Фёдорович
)
Translated from the original Russian.
Stozharov was born in Moscow in 1926. Like so many of the best Moscow artists of his generation (the Tkachev brothers and Geli Korzhev among them) he entered the Moscow Intermediate Art School before World War II. Stozharov was a student at the school from 1939 till 1945, in other words during his teen years; here he was taught by V.V.Pochitalov (an impressionist-influenced painter who was the school's guiding hand), A.P.Shorchev and P.T.Koshevoi. This was followed by six years of training, from 1945 to 1951, at Moscow's elite Surikov Institute, I Grabar, and S. Gerasimov where his professors and he also worked in the studio of the well-known realist G.K.Savitski (himself the son of one of the leading Itinerants). Stozharov began exhibiting in 1953 and took part in some 30 exhibitions in the next five years alone. He soon established himself as an outstanding figure. Together with the master of the older generation, Arkadi Plastov, Stozharov spearheaded the move to Russia country subjects among painters after the death of Stalin.
This move was broadly paralleled by the well-known "village prosc" movement in Russian literature. He specialized in provincial landscapes, especially of the Russian North, which he executed in a broad, vigorous manner, often using a characteristic wide, panoramic format. The peasants who appear in Stozharov's paintings are always rooted in the landscape: in stark contrast to much socialist realism, people are not portrayed as heroic masters of the Russian soil, but as its undemonstrative, yet time-honored, inhabitants. Stozharov was an enormous influence on his contemporaries.
The canvases of the painter have embodied his images about Russia, expressed admiration by the harmony of the environment, beauty and diversity of the old Russian architecture, people's art and mode of life. The most of his paintings differs by the intensive color sounding, they are at the same time materialistic, decorative and poetic.
His honors include membership in the USSR Academy of Arts; and in 1968 a prestigious Repin Prize (the Russian State Prize for art). One man shows of his paintings were held in the Russian regions - in those Northern places such as Syktyvkar, Vologda, and Kalinin (Tver), where he liked to work - in 1974, and in Moscow in 1977. Today he is recognized as one of the classic figures in the history of twentieth century Russian realism.
His works are in more than 60 museums of USSR, including the Tretyakov Gallery and the Russian Museum in St. Petersburg. Many of Stozharov's works are in private collections in England, France, Spain, Japan, where he had several one-man shows, and in Germany.
He died in Moscow in 1973, not yet fifty years old.
---
---
A corresponding member of the Academy of Arts U.S.S.R., Honored Worker of Arts of RSFSR, Repin State Prize Winner of RSFSR, Vladimir F. Stozharov did not live long (from 1926 to 1973) but his art left the inimitable track.
From this childhood he loved the Russian nature with its high horizons, fields and hills. Many relatives live in the Kostroma Region. Besides Kostroma, Stozharov was in Calich, Novgorod, Pskov, Igarka, Turukhansk and many other towns and villages.
He received his primary art education at the Moscow secondary art school and in 1951 he graduated successfully from the State Surikov Art Institute Moscow, named after V.I. Surikov in Moscow. V.V.Pochitalov, D.K.Mochalski and G.K.Savitski were his professors.
Stozharov travelled a lot both in Russia and abroad. He was interested in out-of-the-way places of the country where relics of the past, architecture and bright human characters remained. 1946-1950 creative trips to Kostroma and Yaroslavl regions, 1952 Siberia- Baikal Sea, Issyk-Kul Sea, Irkutsk and Omsk. 1953 Enirey and Angara rivers. 1954 Kazakhstan- Virgin land. In 1960-s V.Stozharovstarted to travel around Russian North. He was interested in remote corners of the country where the original wooden buildings and uncommon characters were still preserved. He was fascinated by "white nights" , bright sunsets, gloomy hovering clouds of northern skies and original architecture of the countryside, hence his wonderful pictures
Landscapes, still-lifes and genre are the central subjects of his creative work.
In 1961 Stozharov created the pictures Isady, River Crossing, Bread for the Country and in 1962 Galich, Fish Soup. In them the author tells about ordinary toiling people, kolkhozniks, and fishermen. Since the 1960s, the theme of the Russian North shows in Stozharov's creative work. He is fascinated with white nights and flaming sunsets, with rich verdure of grasses and unfathomable blueness of the sky.
In 1968 Vladimir Fedorovich Stozharov received the Repin State Prize of RSFSR. Stozharov was a master of the great coloristic talent. He has works devoted to Italy and France. In them, the artist gives much attention to color and seeks its intensive power.
Stozharov's paintings of life in old Russian towns and villages, together with his ambitious still-lifes of the implements and fruits of peasant life, each bearing a brief yet eloquent title (Bread, Kvas, or Linen), were of great significance to his fellow painters in the 1950s and 1960s. The return to peasant life, a life romanticized, perhaps, but not falsely glorified or distorted, initiated by Stozharov was an idea taken up in the work of many of the leading figurative painters of the 1960s.
Stozharov's creative work continued and developed, in many respects, after traditions of such artists as L.V. Turzhankiy, K.P. Yuoon and other painters of the Union of Russian Artists.

"The White Night","Pokrov", housed in the State Russian Museum in St.Petersburg.
The creative trips to Italy 1959, 1967, France 1960 and Romania 1972 brought a
great many works. The picturesque and dramatic manner of the artistґs painting is quite original and distinguishing.
Since 1953 member of the USSR Union of Artists.
1953 -1973 permanent participant of Moscow, zonal, republican , All-Union and international art exhibitions.
1966 - participant of the international exhibition "Biennale di Venezia".
1967 - participant of a group exhibition in Moscow.
1969 - winner of the Academy silver medal.
1970 - participant of the sales/ exhibitions of works by Soviet artists in Japan (Nakomora Gallery) and Europe - Gremany ( Nicolay and Sohn), France, England,Finland.
His works are in more than 80 museums in Russia and the former USSR, including the Tretyakov Gallery in Moscow and the Russian Museum in St. Petersburg. Numerous works of Stozharov's are in private collections in the USA, Germany, England, France, Spain, Japan and Korea, Finland.
---

---

Outline of Stozharov's Life:

1926- Was born on January 3rd in Moscow, Bolshoi Karetny Lane (21 – 8).

1939-1945 Studied at Moscow secondary art school at V.I. Surikov Moscow State Art Institute. Moscow — Voskresenskoye village (Bashkir ASSR) Teachers: P. Т. Koshevoi, S. P. Mikhailov, V. V. Pochitalov, A. P. Shorchev.

1945-1951 Studied at painting faculty of V.I. Surikov Moscow State Art Institute.Teachers: D. K. Mochalski, G. K. Savitski, V. V. Pochitalov.

1946-1950 Annual creative trips to Kostroma and Yaroslavl regions.

1952 Creative trip to Siberia — the Lake Baikal, cities of Irkutsk, Omsk and Isillkul together with the artist M. Artyukhin.

1953 Creative trip to the Yenisei and Angara rivers together with artist I. Sorokin.

1954- Was affiliated a member of Moscow organization of the Soviet Artists' Union. First participation in All-Union Art Exhibition. Creative trip to the virgin lands of Kazakhstan with artists V. Zakharkin and I. Sorokin. Creation of: «Igarka», «On virgin land in Kazakhstan», still life «Bread».

1954-1959- Annual participation in the Moscow Young Artists Exhibitions. Creation of: «Dinner time. A. Kuznetsov's team»1955, «Quiet evening. Ruzbugino windmill», 1956, «Turukhansk», 1956

1956-1959- Annual creative trips to Kostroma and Yaroslavl regions. Creation of: «Yenisei», still life «Bread», 1956, «At the samovar», 1956, «Indian summer», 1957,« To Kostroma», 1957 «In the Igarka port», 1957 «Rostov Yaroslavsky», 1957 «Andreykovo village. The Virgin of Mercy Feast», 1958.

1959- First creative trip to Italy. Creation of: «Venice. Workers' block», «Collective farm pace-makers' arrival to the meeting», «Windmill in Grigorkovo».

1960- Trip to France. Creation of portraits of labour pace-makers, picture «Isady. River crossing». Creative trip to Ryazan, Arkhangelsk regions and Komi ASSR along the Norhern Dvina and Pinega rivers with artist G. Daryin.

1961- Creative trip to Kostroma and Yaroslavl regions with artists G. Daryin, F. Novotelnov, I. Popov, Y. Semenyuk. Creation of: «Rostov Yaroslavsky», «In Siberia», « Delivery of grain to the state stock. Putyatino».

1962- Creative trip to Arkhangelsk region and Komi ASSR along the Norhern Dvina and Pinega rivers with artists G. Daryin and G. Ogareva-Daryina. Creation of: «Galich. Fish soup». «Galich. Fishermen outskirts», «New North».

1963- Creative trip to Arkhangelsk region with artists E. Zverkov and I. Popov. Creation of: «Autumn on the Pinega».

1964- Creative trip to Komi ASSR along the Mezen, Vashka, Pyssa rivers with artists E. Zverkov and I. Popov. Creation of still lives «Moscow fun pastry», «Bread, salt and bratina (wooden wine bowl)» and pictures « Kargopol. Warehouses of village stores», «Shotova Ghora village».

1965- Was conferred the title of the Honoured Art Worker of the RSFSR. Creative trip to Komi ASSR along the Vashka river with artists E. Zverkov and Y. Semenyuk. Creation of still life «Bratina (wooden wine bowl) with kvass» and pictures «Window platboards», «The first motor ship is coming».

1966- Participation in XXXIII International Exhibition «Biennale di Venezia», (still life «Bread» 1956, «Galich. Fishermen outskirts» 1962, «Galich. Fish soup» 1962). Creative trip to Komi ASSR with artists E. Zverkov and Y Semenyuk.

1966-1967- Creation of: «Saturday. Bolshaya Pyssa. Bath.», «Saturday. Baths.», «Winter seeing-off in Vazhghort».

1967- Was awarded a Silver Medal of the USSR Academy of Arts for the works «Kargopol. Warehouses of village stores » (1964), «Vazhghort village. White night» (1967), «Verkhozerye barns» (1967), «Saturday. Bolshaya Pyssa. Bath.» (1966), «Bolshaya Pyssa village» (1967) Second creative trip to Italy, creation of Italian studies sequence. Creative trip to Novgorod and Pskov regions. Creation of: still life «Flax», «Bolshaya Pyssa village», « Vazhghort village. White night» «Verkhozerye barns».

1968- Was conferred a title of I.E. Repin RSFSR State Prize-winner for « Isady. River crossing» (I960), «New North» (1962), «Saturday. Baths» (1966—1967), «Verkhozerye barns» (1967), «Winter seeing-off in Vazhghort» (1966—1967), «Vazhghort village. White night» (1967), «Bolshaya Pyssa village» (1967). Creative trip to Pskov, Novgorod, Yaroslavl, Kostroma and Vladimir regions with artists G. Daryin, Y. Semenyuk, V. Ulyanov. Creation of: «Venice. Midday», «Firenze. Ponte Vecchio», «Venice. I am waited at home».

1969- Creative trip to Komi ASSR along the Vashka and Yortom rivers with artists G. Daryin and E. Zverkov. Creative trip to Kostroma and Yaroslavl regions. Creation of: «Syordla village. Komi ASSR», «The Protecting Veil», «Pskov. Citadel. Flat tower».

1970- Creative trip to Pskov, Novgorod, Yaroslavl, Kostroma and Vladimir regions with artists G. Daryin, Y. Semenyuk, V. Ulyanov. Creation of still lives «Romanov onion», «Birch bark buckets, rowanberry and black chokeberry», picture «Twighlight»

1971- Trip to Great Britain. Creation of: «Novgorod. Church from Kuritsko village», «Pskov. Malting shop.(XVII c.)», «Bolshaya Pyssa village. Frosty night», «Yaroslavl. Kremlin. Moon night».

1972- Trip to Romania with artist S.A. Torlopov and a group exhibition of the works of the RSFSR «Russian North» artists (Warsaw-Prague-Bratislava-Bucharest). Creative trip to Kostroma region. Creation of still lives «Kvass», «Antique fire-clay pitcher», «Tea with kalatchi (small padlock-shaped white loaves)», picture «October»

1973- Was elected a corresponding member of the USSR Academy of Arts. November 22nd Died in Moscow.

Museums that include works by Stozharov in their collections:
Back to Russian Art