Venus's Head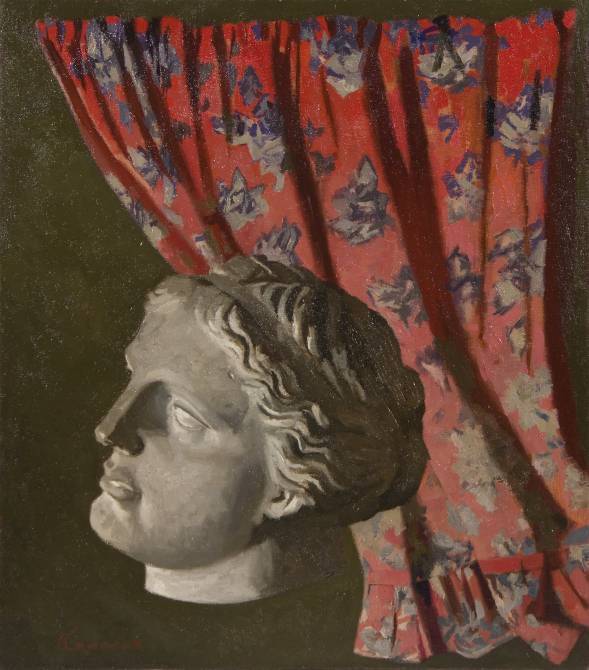 Korzhev, Gely Mikhailovich
1925 -
Venus's Head
Oil on canvas
80 x 70cm
1990
Signed lower left
PROVENANCE:

Collection of the artist
Union of Russian designers
Thomas Kearns McCarthey Gallery, 444 Main st, Park City, Utah, USA
Private collection, USA
LITERATURE:

Certificate from the artist dated 25/5/2006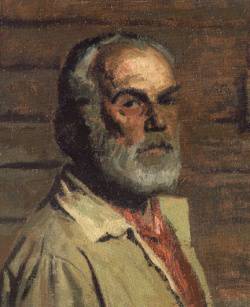 Korzhev self-portrait
Geli Korzhev is considered by the curators of the Tretyakov Gallery in Moscow to be the most important Russian artist of the later part of the 20th century. In 2005 Korzhev's famous painting, Raising the Flag, depicting a determined worker heroically raising a red flag plucked from a fallen comrade, was chosen to represent 700 years of Russian art. Korzhev's work is now always selected for important 20th century shows in Russia at the Tretyakov and Russian Museum and was also included in the 'Russia!' show in 2005 at the Guggenheim museum in New York.
In 2007 Korzhev became the first 'Severe School' artist to be given his own exhibition outside of Russia. The Museum of Russian Art (TMORA) showed 42 of his paintings September 8th 2007 – January 5th 2008 in the show entitled, 'Raising the Banner.' Alisa Lyubimova, curator of 20th century paintings at the State Russian museum in St Petersburg, who lent 8 paintings to the show said at the time, "It is very important to us to show Russian art abroad, but I am a little jealous that this will be the first full Korzhev exhibition and it is happening here and not in our museum." Korzhev has declined several invitations for a major retrospective of his work at the Tretyakov gallery in Moscow.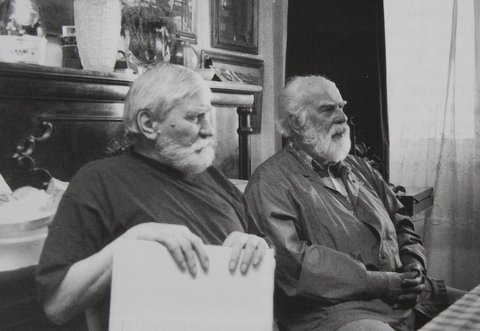 Korzhev(seated right) with Petr Ossovsky in 1999
Korzhev was born in Moscow in 1925. His father was an architect and member of the Association of New Architects – the leading Avant Garde group of the 1920's. Korzhev studied at the Moscow Intermediate Art School from 1939 – 1944 and later at the Surikov Institute in Moscow from 1944 – 1950, graduating from the studio of Sergei Gerasimov. He soon won recognition as the outstanding painter of his generation with his painting, In the days of War (1954) but it is considered that his own voice only really emerged with the execution of Lovers in 1959, a portrayal of a middle aged couple sitting together on the seashore lost in their own memories. This introduced one of Korzhev's favourite subjects, men and women in middle age weary from traumatic experience and deep in their own thoughts. He bravely injected a tough psychological authenticity into Soviet painting a time when artists were expected to adhere to the strict guidelines governing Soviet subject matter which preferred happy workers enjoying a Soviet paradise. The 1960's series, "Scorched by the War," established Korzhev as the most powerful realist of his generation and examined themes of compassion and forgiveness that Korzhev would keep exploring through the 1980's and 1990's. When asked why the Soviet authorities tolerated Korzhev's work Lyubimova said, "the authorities, even in strict times, could understand what was good and bad, right and wrong" before adding, "and he was so strong a person they couldn't take away his art."
Venus's head is an important example of Korzhev's still lifes. During his career Korzhev kept a selection of favourite antique busts and studio props such as jugs and dishes which he often painted in different ways whilst experimenting with technique, light and colour. In a 2005 interview Korzhev said that he believes that these still lifes will in time come to be considered among his most important work. The painting shows a Roman head of the goddess Venus which was one of Korzhev's favourite antique busts. Venus was the goddess of Love in Roman mythology. When discussing this painting in 2005 Korzhev said that he learnt to paint and draw by copying this type of antique head when at the Surikov art school in the 1940's. He credits the technical skill of his generation of artists of the Moscow School and the 'Severe style' to the rigour of the classical training they received whereby they had to frequently make studies of still lifes and nudes. Such practice had faded out of European art schools by this date.
Korzhev said he loved copying the set of busts belonging to the Surikov and as soon as he could afford them he bought some reproductions which have remained in his studio ever since. The head of Venus is placed hanging mysteriously in space and looking to her right. There is a red curtain held drawn behind her which serves a colourful backdrop and adds to the eccentricity of the painting. This head of Venus is a favourite prop of the artist which he painted many times and remains in his studio today. The composition is carefully balanced and the colours harmonious showing the considerable effort put into these still lifes by the artist. Korzhev displays his usual skill in carefully revealing the different textures of the marble head and the curtain.
There are very few painting of this date and quality remaining outside of Russian museums and this beautiful painting stayed in Korzhev's own collection for several years before passing into the collection of the Union of Russian Designers who bought it directly from the artist. Korzhev preferred selling or giving his works to museums and it was always difficult for private collectors to collect his work as he normally refused to sell them anything. The painting later passed the through the hands of the Thomas Kearns McCarthey Gallery in Park City, Utah, before entering a US private collection. The painting was discussed with the artist in 2005 when he signed an image of it.
Back to Russian Art