Peasant woman with a green shawl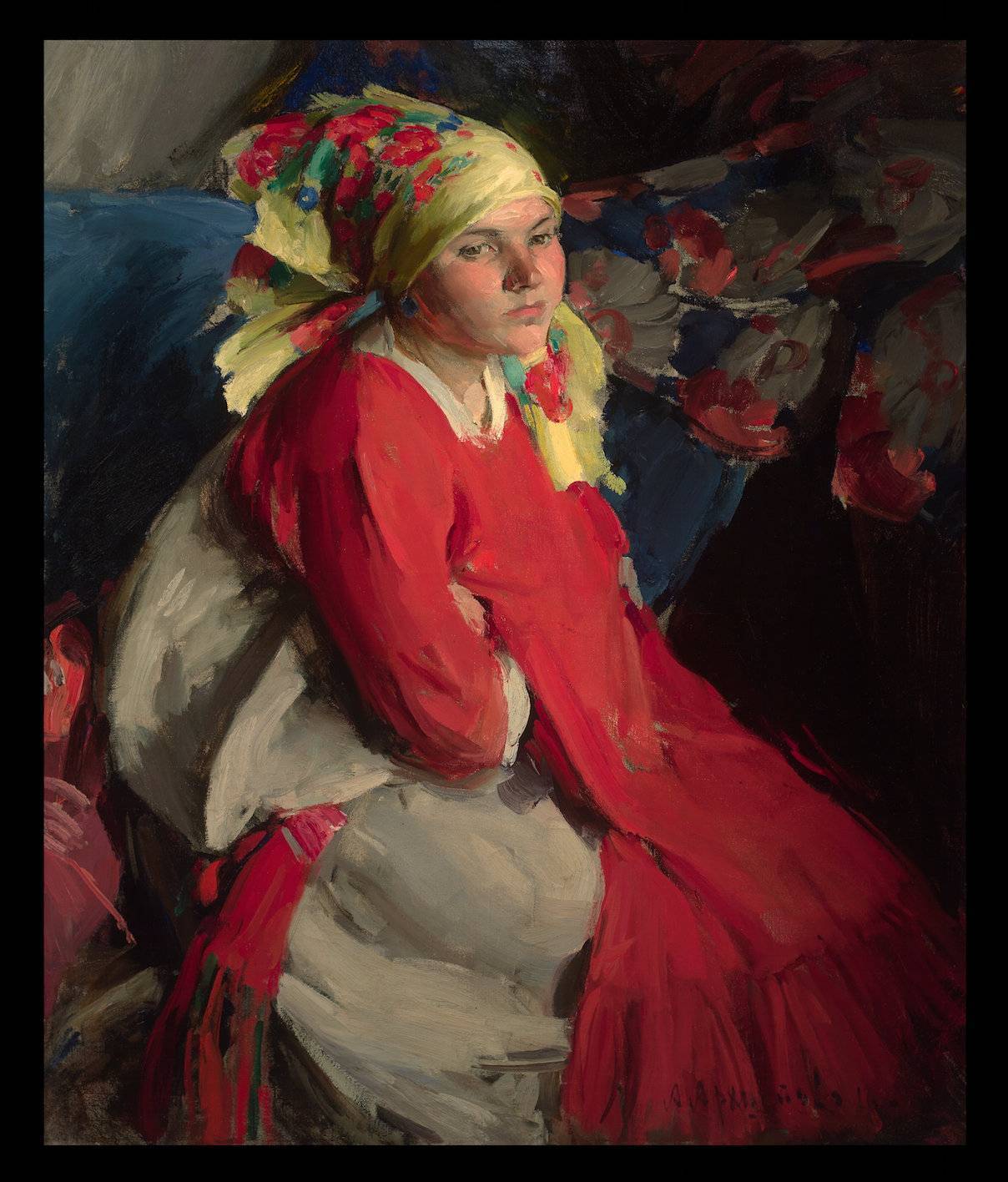 Abram, Arkhipov
1862 - 1930
Peasant woman with a green shawl
Oil on canvas
102 x 84.5cm
c 1910
Signed lower right
PROVENANCE:

Collection Bo Froman (1926 - 2010), Uppsala, Sweden
This beautiful painting of a young Russian girl by Abram Arkhipov is one of the few masterpieces by this great painter left in private hands. The girl is depicted in a traditional peasant red dress and a brightly coloured headscarf. She is not looking at the painter, but looks away, as if lost in her own private thoughts.
Arkhipov was born into a peasant family in Ryazan province, and the countryside, its people, and its way of life was his primary subject matter as a painter.
As a young child he drew, in his own words, "everywhere, always, and wherever possible". A travelling band of icon painters gave him his first lessons, and advised him to take voluntary classes at the Moscow School of Painting, Sculpture and Architecture.
Arkhipov was to be become a central figure at the Institution, going on to become a professor there, at a time when the school was a formative influence on Russian painting. Amongst his teachers were Perov, Makovsky and Polenov; amongst his pupils Sergei Gerasimov and Konstantin Yuon.
Arkhipov's peasant women became the central part of his life's work from the 1910s onwards. His early career was dominated by the Wanderers and their ideas of realism and social justice; his painting The Washerwomen is still one of the most iconic images at the Tretyakov gallery, but he is today rightly celebrated for the quality of painting of his peasant women, whom he depicted in their brightly coloured traditional costumes. The boldness of these costumes is matched by the artist's execution, in which he combines thick brushstrokes and large patches of colour with charcoal drawing and even bare patches of canvas.
The resulting paintings are both specific portraits of actual peasant girls from his native Ryazan and Nizhny Novgorod, and also generalised contemplations on Russia itself. Arkhipov is considered one of the finest painters from Russia's 'Golden Age' of painting and his depictions of peasant women are much loved in Russia.
Back to Russian Art