Ivan Lindsay and Lady Olga Maitland welcoming Patriarch Kirill of Moscow at the Cavalry and Guards Club in Piccadilly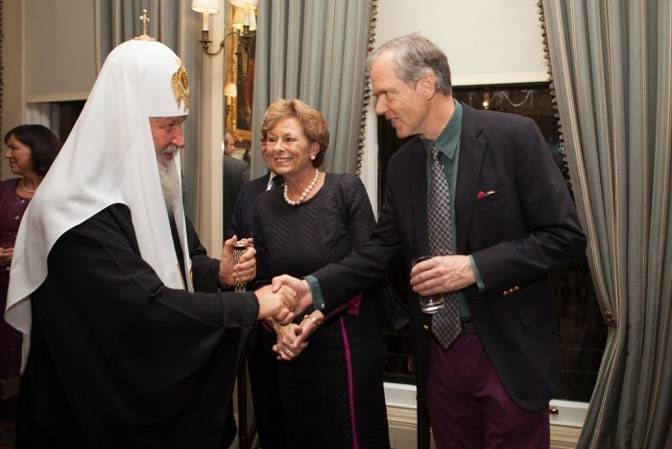 ,
Ivan Lindsay and Lady Olga Maitland welcoming Patriarch Kirill of Moscow at the Cavalry and Guards Club in Piccadilly
In October His Holiness Patriarch Kirill of Moscow and All Russia, head of the Russian Orthodox Church, visited London. The official reason for the visit was to mark the 300th anniversary of the Russian Orthodox presence in the British Isles. The Patriarch is the spiritual leader of over 150m people. The Patriarch met with the Queen, Justin Welby – The Archbishop of Canterbury, and consecrated London's Russian Orthodox cathedral. Patriarch Kirill also found time for an 8km walk through London and enjoyed perusing some second-hand bookstores.
Predictably an assortment of politicians, and people connected to Ukraine, objected to his visit. Labour MP John Woodcock told the Daily Mail that it was "very troubling" for someone so closely associated with the current Russian government to be made welcome at Buckingham Palace at a time when Russia is supporting a "murderous Syrian regime". Woodcock's fellow Labour MP, Alison McGovern, said the visit was an inappropriate "PR opportunity". Ukraine's ambassador to the UK, Natalia Galibarenko, reportedly said that Britain's hosting of the patriarch risked legitimising Russia's aggression in her country and described the patriarch as "a Kremlin mouthpiece".
However, keeping lines of communication open, whether via religious or cultural exchange, at times such as the present when tension exists between Russia and England, is clearly positive and healing. In a speech at the Cathedral the Patriarch said, "There have been times when the relationship between our countries has been excellent. We have been together in combating a common enemy. But there have been times when this relationship has deteriorated and diplomatic relations have been broken off. Yet in London there has been a Russian Orthodox church for 300 years. And no ups and downs…have ever stopped people from coming together to pray to God or have ever prevented people seeing in their British brothers and sisters true brothers and sisters united by faith…"
At a dinner at the Cavalry and Guards Club, hosted by Michael Wynne - Parker (representing the Diocesan Trustees) and His Eminence Archbishop Elisey of Sourozh (head of the Russian Orthodox Diocese of Great Britain), the Patriarch, surrounded by an assortment of bearded and robed bishops, was serenaded after dinner by the Piper of the Royal Scots Dragon Guards. After dinner, the Patriarch gave a fine speech talking of the historical links between the two countries dating back centuries and stressing reconciliation and mutual interest.
The Russian Orthodox Church is the fastest growing christian community in the World with 500 new churches a year being built or reopened in Russia. There are 50 churches being built in Moscow in 2016. The multi lingual and learned Patriarch travels constantly (16 countries in September alone) to promote Christian values, healing and reconciliation. In February he instigated and met with Pope Francis in a historic meeting in Cuba. The Heads of the Roman Catholic Church and the Russian Orthodox Church haven't spoken to each other since the Great Schism of 1054 shattered Christendom. "We are brothers" said Pope Francis while the Patriarch added, "Now things are easier."
Hopefully, with new leaders in England and America, and through the efforts Patriarch Kirill and others, it will be possible for Russia and the West to form a better relationship.
Back to World Travels