Let us beat Swords into Ploughshares - 1959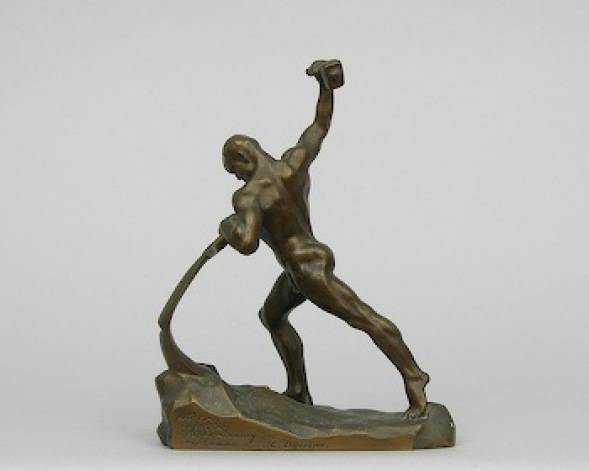 Vuchetich, Evgeny
1908 - 1974
Let us beat Swords into Ploughshares - 1959
Bronze
c 25cm high
Signed in Cyrillic on base alongside inscription saying, "dedicated to my contemporaries"
PROVENANCE:

Private Collection, USA.
Yevgeny Viktorovich Vuchetich was a one of the most famous Soviet sculptors along with Vera Muhkina. He is best known for his heroic monuments, often of allegoric style.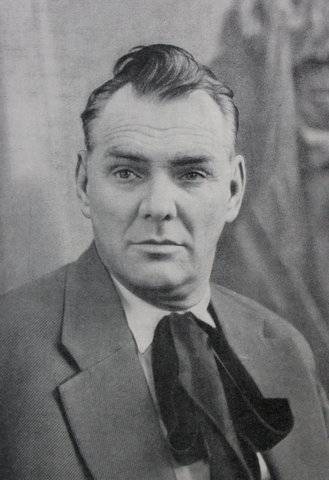 Yevgeny Vuchetich
He was born in Yekaterinoslav, Russian Empire (now Dnipropetrovsk, Ukraine). His father, Yevgeny Vuchetich, Viktor, was of Montenegrin nationality, and his mother, Anna Andreevna Stewart, was a Russian of French descent.
He was a prominent representative of the Socialist Realism style and was awarded the Lenin Prize in 1970, the Stalin Prize (1946, 1947, 1948, 1949, 1950), Order of Lenin (twice), Order of the Patriotic War (2nd degree), Hero of Socialist Labor (1967) and People's Artist of the USSR (1959).
Vuchetich;'s most famous works are located at:-
▪ Soviet War Memorial[1] in Treptower Park, Berlin (1946-1949), overseen by a 13m tall monument of a Soviet soldier holding a German child, with a sword, over a broken swastika.
▪ Let Us Beat Swords into Ploughshares in the United Nations garden (1957)
▪ Let Us Beat Swords into Ploughshares in front of the plant "Gazoapparat" in Volgograd.
▪ Let us Beat Swords into Ploughshares outside the Tretyakov Gallery in Moscow
▪ A sculpture of Felix Dzerzhinsky (1958), colloquially known as "Iron Felix", used to be in Moscow at the Lubyanka Square
▪ The Motherland Calls! at Mamayev Kurgan
Let us Beat Swords into Ploughshares
The current bronze sculpture is a reduced version of Vuchetich's most famous work which was given by Krushchev to the United Nations in 1959 as a gesture of peace. It remains there today in the North Garden at the UN headquarters in New York overlooking the East River.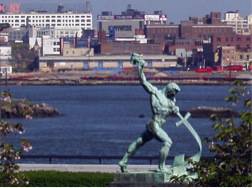 United Nations garden, New York.
The sculpture depicts a man holding a hammer aloft in one hand which he using to beat a sword into a plough, an image of war being turned into a farming implement. This gesture of peace by Khrushchev at a time of considerable mistrust between the Soviet Union and the United states was considered a brave gesture on the world stage.
The image has remained one of the best known sculptures of the Soviet period and been used as a symbol for peace ever since. The Soviet sculptors often made some reduced versions of their most famous sculptures which were popular amongst the Soviet elite. This beautiful version made in a honey coloured bronze came from a private collection in the USA around 10 years ago and is made on a scale that was clearly designed for a private house as opposed to a public monument.
The image remains popular in Russia and one of the defining sculptures of the Soviet period. There are large versions found in Russia today in front of the "Gazoapparat" plant in Volgograd and outside the Tretyakov Gallery in Moscow.
It has been used by Russian contemporary artists as Leonid Sokov who made a version in the early 1990's covered in gold dollar signs. Refering to the Vuchetich sculpture Sokov said, "I have always been fascinated by this simple, yet very impressive piece." Sokov took Vuchetich's original and by adding the dollar signs used it as a transitional image of the Soviet period moving into the capitalist period and the desire to make money and chase dollars. Sokov's sculpture has been widely exhibited ironically furthering the fame of Vuchetich's original(for example:- Museum of Contemporary Art on the Hudson, New York; Leonid Sokov, Farsetti Arte Sezione Mostre, Firenze, Italy 1995; Socialist Realism and non Conformist Art, Museum of Russian Art, Minneapolis, USA, April – August 2006).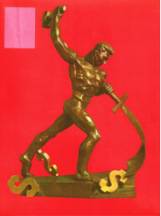 Leonid Sokov – Lets Beat Swords into Ploughshares, bronze, 82.5 cm high, circa early 1990's.
Our version of Vuchetich's famous sculpture, Let us beat Swords into Ploughshares, is a rare survival of a Soviet bronze of the 1950's, a powerful image of peace and an important piece of Russian history.
Back to Sculpture