Nude wearing black shoes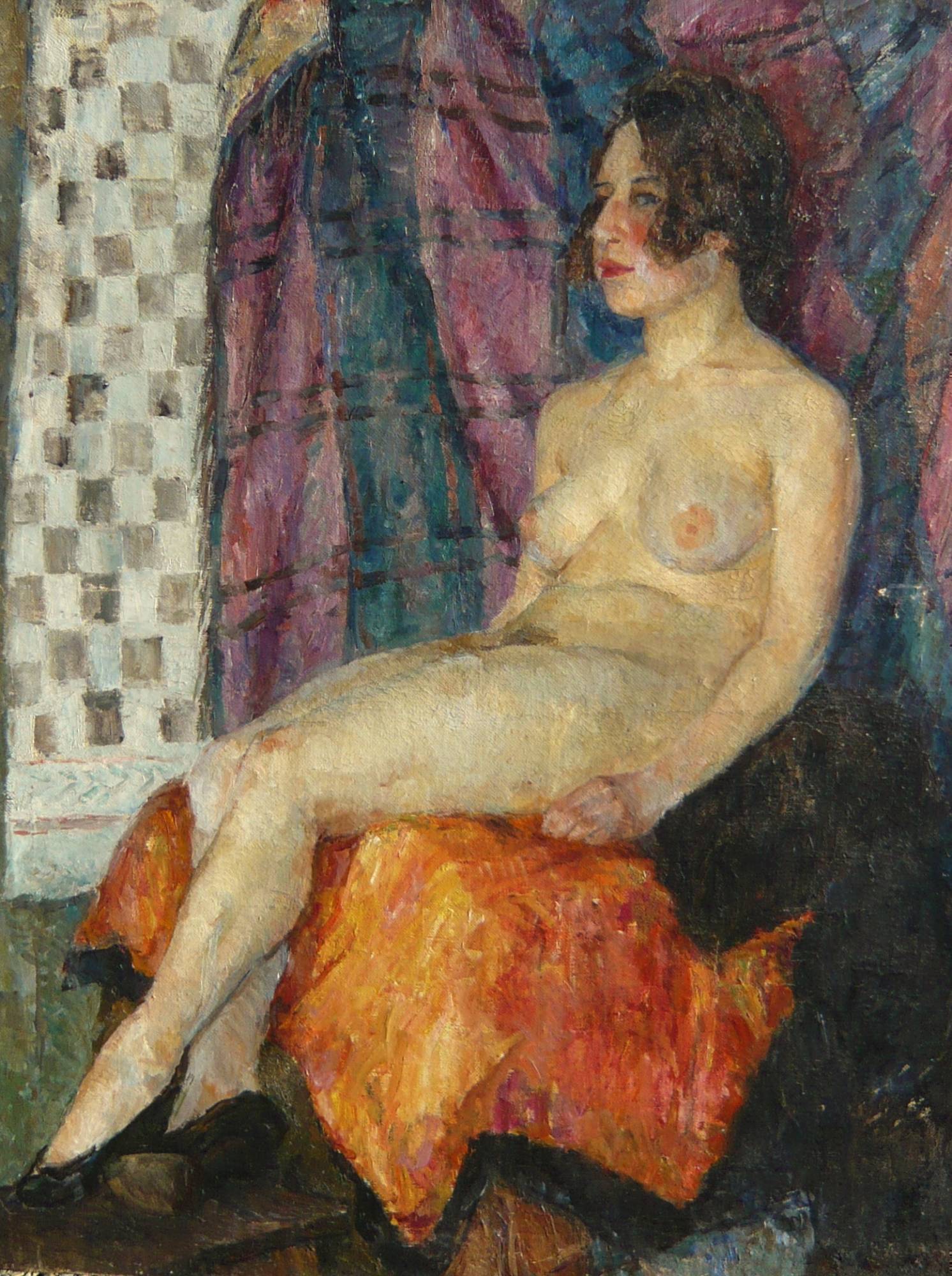 Ulyanov, Nikolai Pavlovich
1875 - 1949
Nude wearing black shoes
Oil on canvas
115 x 89cm
1920
Signed lower right
PROVENANCE:

Private Collection, Sweden
Private Collection, London
Nikolai Ulyanov stands amongst the leading artists of the silver age in Russian painting at the beginning of the 20th century. He was a brilliant draughtsman and painter who experimented with symbolism, cubism, futurism and abstract art but remained within the classical tradition of Russian art. He participated in all the important artistic movements, societies and exhibitions of his day including:- MTKh, World of Art, Golden Fleece, Union of Russian artists, HEAT-COLOUR, AKHRR, Four Arts, Blue Rose and Stefanos.
Ulyanov went to school in Yelets until the family moved to Moscow. In 1888 he studied for several months with an icon painter and then with Vasily Meshkov, who trained him for entry into the Moscow College of Painting, Sculpture and Architecture. There Ulyanov studied under Nikolay Nevryov and Illarion Pryanishnikov and from 1899 to 1901 under Valentin Serov and Konstantin Korovin, both of whom had a strong influence on him. A close relationship developed between Serov and Ulyanov and Ulyanov attended Serov's studio up until 1904 after graduating from College. Ulyanov also taught with Serov from 1901 to 1907 at the Zvantseva Academy in Moscow.
From 1905 Ulayanov worked as a stage designer in the studio theater at Cook's. He created costumes and scenery for numerous productions including "Shlyuk and Yau", the play by G. Hauptmann, "Sold the Sun", "Rashild", and "Peleas and Melisende" by M. Maeterlinck. In 1905 he took part in a portrait exhibition in the Tauride Palace in St. Petersburg and during the Revolution of 1905 he made a series of full-scale drawings on the streets of Moscow.
In 1906 he traveled to the Volga and Kama rivers and in the same year designed the set for the play "Woe from Wit" by A.S. Griboedov at the Moscow Art Theater. Ulayanov knew many of the artists and writers of his time and painted several of them such as his 1909 portrait of the symbolist poet Konstantin Balmont now in the Tretyakov gallery (see below).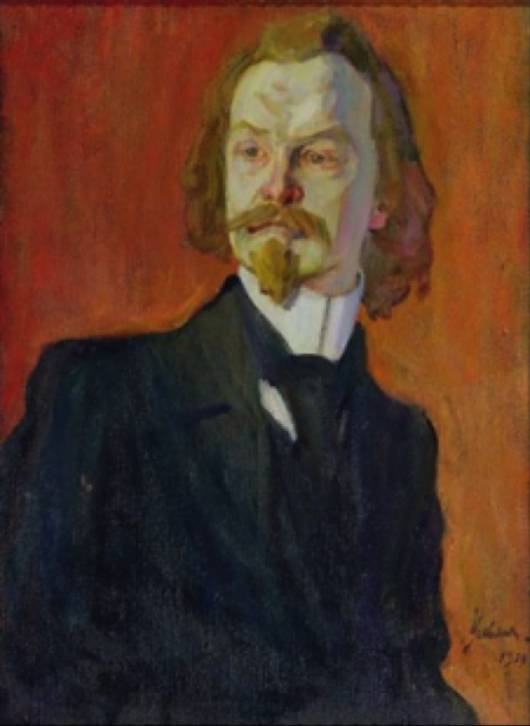 Konstantin Balmont by Ulyanov
In 1907 he exhibited works at the exhibitions "Crown" and "Free aesthetics", and joined the artistic board of the magazine "Golden Fleece". In 1907 he traveled to Italy, in 1909 France, and in 1912 he visited Germany and Italy (together with P. Muratov) on a scholarship.
In 1911 he participated in the World Exhibition in Rome, where he declined an invitation to join F.T. Marinetti's Futurist movement. Marinetti had published his Futurist Manifesto in 1909 and was more influential on Mikhail Larionov, Natalia Goncharova and Kazemir Malevich but they too had rejected his ideas by 1914. From 1911 Ulyanov was a permanent contributor to the annual (until 1923) Exhibition of the Union of Russian Artists and 1913 he joined the association World of Art. From around 1905 Ulyanov developed as a fine portrait painter and examples of his portraits are found in many Russian museums such as Portrait of Mikhail Lermontov in the State Central Literary museum in Moscow (see below).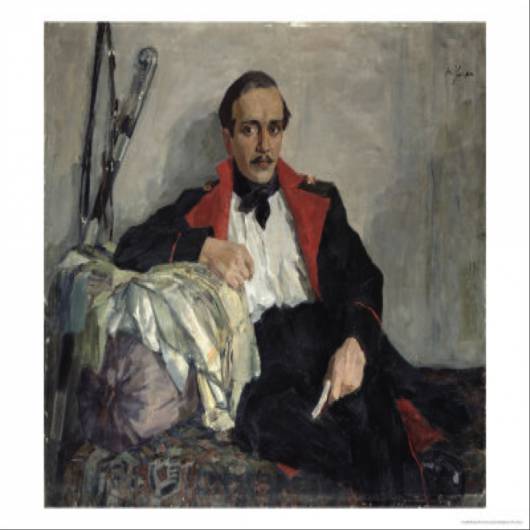 Mikhail Lermontov by Ulyanov
In 1915-1918 he taught drawing at the Stroganov School of Industrial Art and worked on countless films and plays. In 1917 he became one of the founders of the trade union of painters in Moscow and in 1924 made a series of sketches in the Hall of Columns at the time of Lenin's funeral. In 1923 and 1925 he participated in the exhibition of AHRR. In 1925 he became one of the founding members of the association 4 Art and in 1926 the State Academy of Artistic Sciences (GAHN) put on an exhibition for Ulyanov to celebrate 30 years of creative activity. Ulyanov wrote a memoir about Tolstoy, Ge, Serov, Korovin, Golubkina, Meyerhold, Stanislavsky, Scriabin entitled "My meetings" published posthumously in 1953 and reprinted in 1959. He was buried at a cemetery in Moscow in 1949 and retrospective exhibitions of his paintings took place in 1951, 1961 and 1975. The most significant collections of his works are today held in the State Tretyakov Gallery and the Pushkin Museum.
Nude wearing black shoes is fine example of Ulyanov's work dated 1920 by the artist. The Jack of Diamonds group joined the World of Art association in 1915 to which Ulyanov had belonged since 1913. The Jack of Diamonds members included Mikhail Larionov and Peter Konchalovsky whose influence can be seen on the present work in the bright colours and rough handling of the different background materials. The young girl, sitting on a black fur coat with a bright orange lining, is depicted naked except for her black shoes which the artist has left on as an erotic device to reinforce her nudity, a popular compositional device in Russian painting later utilized by numerous artists including Pavel Sokolov - Skalya. The girl sits heavily made up with rouged cheeks and red lipstick suggesting she might have been a courtesan Ulyanov asked to come into the studio from the street. Girls prepared to pose nude were hard to find at this date outside of the art schools and her slightly formal pose does not feel like a professional model used to sitting for artists. She remains in half profile, one side of her face partially hidden, with a striped purple sheet as backdrop. Ulyanov shows his mastery of volume and surface anchoring the girl firmly to the seat and giving variety to the brown and pinks of her shimmering skin tones. On its original canvas and in excellent condition the painting remains an important work by Ulyanov and a rare example of a work from his finest period outside of a Russian Museum.
Back to Russian Art