Smokebreak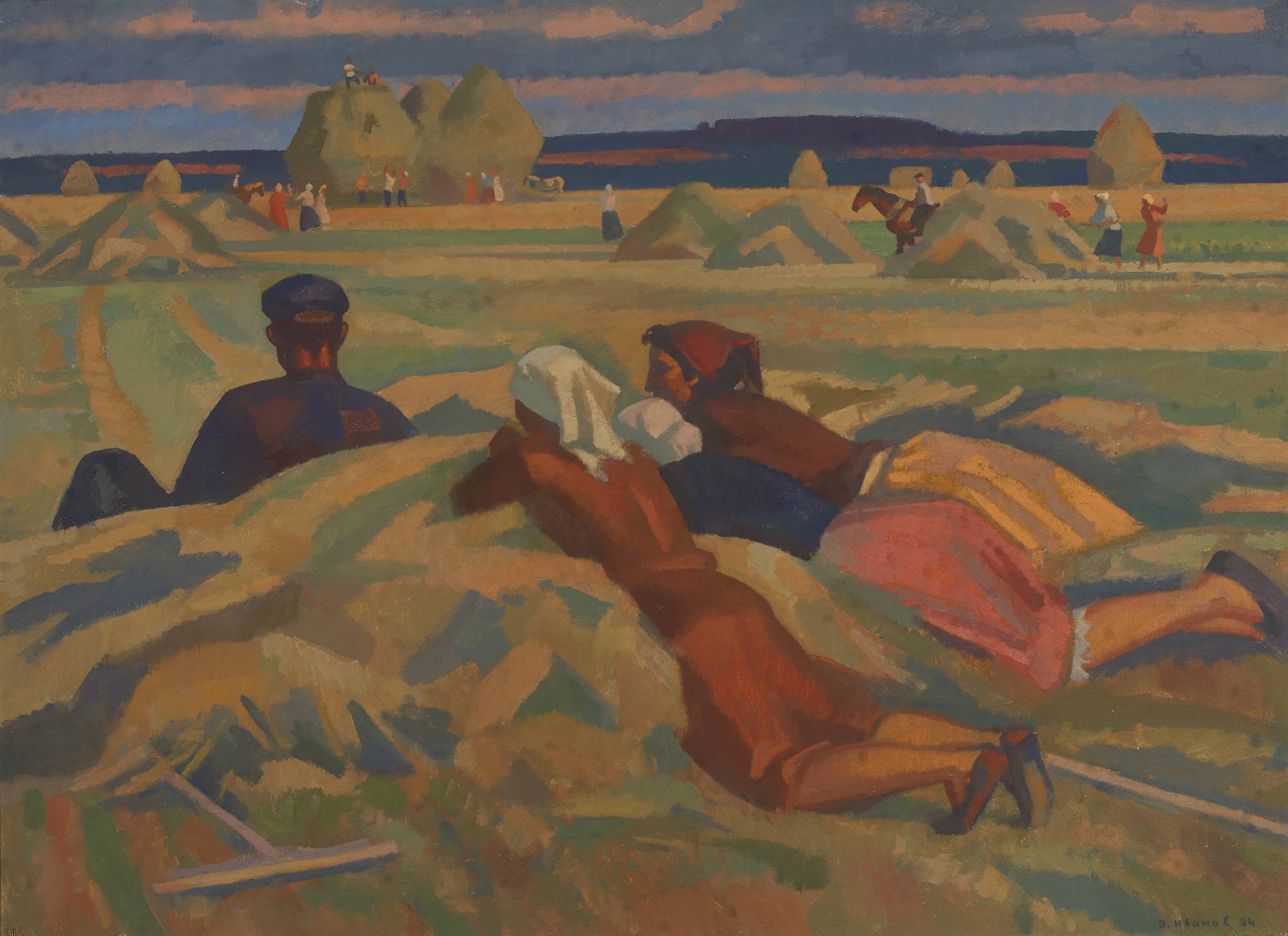 Ivanov, Victor Ivanovich
1924 -
Smokebreak
Oil on canvas
95 x 130cm
1994
Signed
EXHIBITED:

At the Victor Ivanov Museum in Ryazan circa 2005
LITERATURE:

Certificate from the artist
Victor Ivanov second from right
Smokebreak is a rare example of large multi-figured painting by Victor Ivanov not in a Russian museum. 3 women and a man lie on the freshly cut hay taking a break from the gruelling harvest in the Ryazan sunshine. All the work is being done by hand or with the help of horses. The composition is carefully and geometrically balanced in Victor Ivanov's distinctive linear style.
The painting is a masterpiece of the post war 'Severe style' which was developed by artists such as Ivanov, Petr Ossovski and Geli Korzhev. The 'Severe style' was partially a reaction against the cheerfulness of the approved Socialist Realism that these artists felt was inapropriate in the austerity of post war Moscow. It was after Stalin's death in 1953 and the during the Khruschchev thaw that artist's such as Ivanov were able to start experimenting in this style which would have been unthinkable a mere decade earlier.
The painting is a tighly controlled exercise in colour, form and has a carefully balanced composition. Ivanov eliminates all non essential detail. The painting is pieced together in thick blocks of colour that are cleverly matched to create a harmonious whole. Ivanov acknowledges his debt to Malevich and Goncharova and yet the painting is clearly of its time and original.
Victor Ivanovich Ivanov spent much of his life, and had a summer house near, Ryazan where his mother was born, and where the Victor Ivanov museum is now to be found attached to the Ryazan State Museum. Ryazan became the main inspiration for his art and he formed a deep attachment to the people and the land in this area. In the villages, all human life was there from the first day till the last.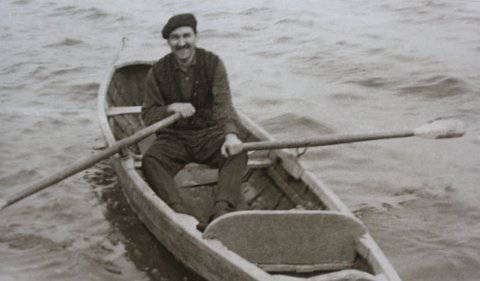 The artist on the Oka river
The artist saw in this place a merging between man and nature, redemption of a kind, and preparation for the peace of eternity. He saw the monumental and yet romantic greatness of country work and life. "Our art was magnificent, we created works which it seemed to us, did not distort reality in any way," - Victor Ivanovich recalls. – "This was the Truth of our time and this Truth has always been most important for my art. I believe in realism. It gives us strength, speaks of beauty both physical and moral. Realism is the highest art; history shows nothing to equal it."
Smokebreak is a outstanding example of Victor Ivanov's habit of drawing his subject matter from the local people working in the fields near Ryazan. Such paintings have an eternal quality where time is suspended. The colours are harmonious and dense and the painting has a peaceful air.
Back to Russian Art