The Collective Farm Girl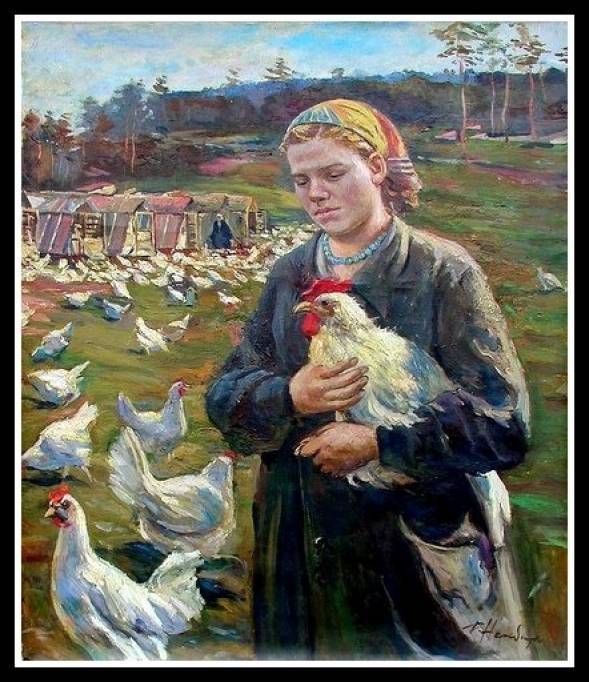 Nalbandian, Dmitri Arkadevich
1906 - 1993
The Collective Farm Girl
Oil on canvas
118 x 95cm
Circa 1960
Signed lower right
PROVENANCE:

Private collection, Germany.
LITERATURE:

Certificate from Nikolai Nikolaevich Schmidt, former General Director of Central Exhibition Hall('Manege') for All Union exhibitions, Art Director of 'New Manege Hall' and curator of the Nalbandian Memorial Museum.
Dmitri Nalbandian was an active member of the Academy of Fine Arts of the USSR and one of the most successful of the Soviet post-war artists. He won all the highest accolades of the Soviet State including People's Artist of the USSR, Laureate of Stalin Prize (1946, 1951) and the Lenin prize(1982). He studied in Tbilisi at the Academy of Fine Arts under E. Lancere from 1924 – 1929 before moving to Moscow in in 1931.
Nalbandian was an accomplished landscape painter but became famous for his portraits of the Soviet elite including Stalin, Khrushchev and Brezhnev. He was nicknamed by the other artists the "first brush of the Politburo." Nalbandian is well represented in the Tretyakov Gallery in Moscow and other regional Russian museums. Since 1982 his self-portrait has hung in the self-portrait gallery in the Uffizi Gallery in Florence.
The Collective Farm Girl
This large, beautiful and colourful painting of a girl working on a Soviet Collective Chicken farm was painted around 1960 during Dmitri Nalbandian's best period. During the 1950's the Soviet State organised huge State farms often on lands that hadn't been cultivated before. The State recognised the importance of the people who worked both in these agricultural ventures and also in factories and artists were encouraged to portray them in their art.
The girl wears her finest clothes for the painting including a colourful headscarf and turquoise coloured necklace that she surely would not have worn for day-to-day work on the farm. She holds a chicken with an easy familiarity and other chickens and their coops are portrayed behind. The chickens forage free range and the setting is a grassy hill with woods behind.
At this date Nalbandian was very popular in the highest Soviet circles and well known to the elite as he painted portraits of all the leading figures of that time. As such he didn't have to follow the required prototype s closely as other painters and he depicts the girl with a thoughtful expression as opposed to usual happy laughing face. This gives the painting an added poignancy as one cannot help but wonder what the girl is thinking.
We are grateful to Nikolai Schmidt, who runs the Nalbandian Museum in Moscow, for his help with this description. He has confirmed this is an outstanding example of Nalbandian's art. The painting is in perfect condition and remains a historical document as well as a beautiful and evocative artwork.
Back to Russian Art