Gypsy Girl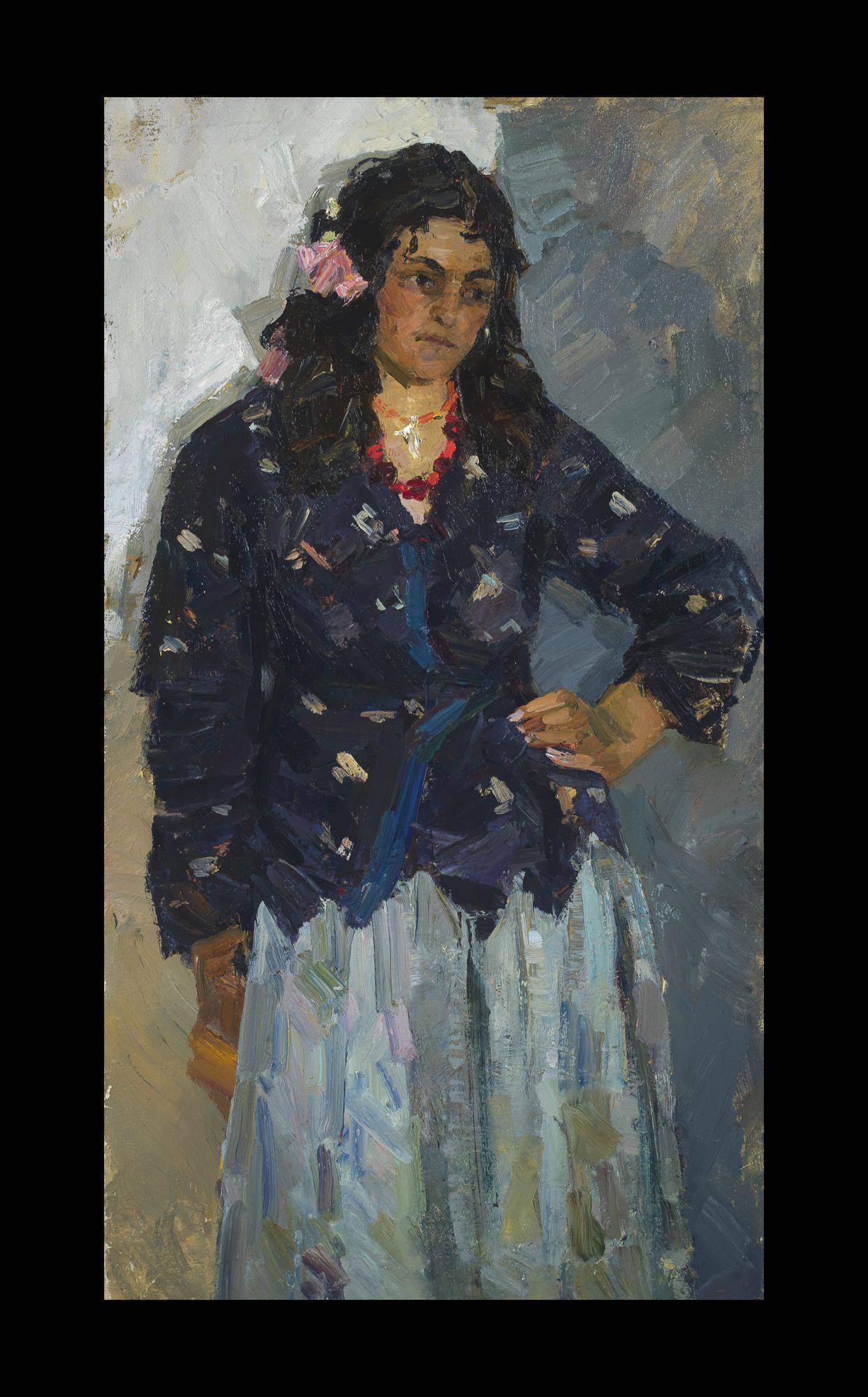 Gavrilov, Vladimir Nikolaevich
1923 - 1970
Gypsy Girl
Oil on Canvas
117 x 62cm
1959
Signed
PROVENANCE:

Family of the Artist
LITERATURE:

V. N. Gavrilov, Hudozhnik RSFSR, 1989, Leningrad, illustrated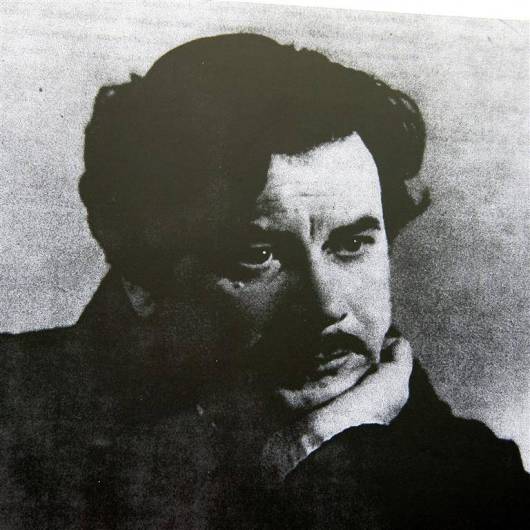 Vladimir Gavrilov, circa 1950
The Gypsy Girl, 1959, is a fine example of the work of Vladimir Gavrilov, a leading member of the post-war Moscow School, a group of artists who graduated from the Moscow Art Institute and launched their careers in the second half of the 1950s. The beautiful girl has the inky black hair of her race who originally migrated from India and she wears her finest clothes for the portrait including pink ribbons in her hair and a coral necklace.
Among the Moscow School artists are such well-known figures as G. Korzhev, A. Tkachev, V. Ivanov, V. Stozharov, and I. Popov. This was a tight circle of friends not officially united or under any common agenda, who were taught by the same teachers and were driven by the same desire to capture the beauty of everyday life and discover new artistic methods. The Gypsy Girl is a bright example of the Moscow School of painting and of Gavrilov's unique genius. Gypsy's, and in particular beautiful Gypsy Girls such as this one, were a popular subject for Russian artists at this date and there are also good examples by artists such as Arkadi Plastov and Aleksadr Gerasimov.
Vladimir Gavrilov graduated from the Moscow State School of Arts in 1956, just over a decade after the end of World War II, which had devastated the country and its people. After years of hardship young artists wanted to celebrate each day of peace and were full of creative energy. This time also coincided with the beginning of Khrushchev's Thaw, a period of reversal of repression and censorship in the Soviet Union. In many respects there was a renaissance of Russian art, which had from the 1920s been suppressed and reduced to a limited number of themes and artistic methods of the so-called 'official Soviet art'.
In 1954 the seven-year moratorium on Impressionist and Post-impressionist art in the USSR was lifted not only signaling changes in politics but giving an important opportunity for artists to study the achievements of these important movements first-hand. Museums like the State Hermitage Museum in St. Petersburg and the State Fine Art Pushkin Museum in Moscow started to exhibit works from the Shchukin and Morozov collections, unavailable for viewing during the Stalin regime. Masterpieces of modern art from these collections certainly were an important source of inspiration for the artists; however Gavrilov also cited Old Masters such as El Greco, Velasquez, Rembrandt as well as several major Russian artists like Surikov, Levitan and Vrubel as his great influences at the time.
As for all Moscow School artists Gavrilov's ambitions were to find his own way in art and from the start of his career he carved out a distinctive style. His works are characterized by thick shimmering layers of paint and wide, seemingly careless brushstrokes. Gavrilov's preoccupation with color and its effects is evident in all of his works. He once admitted he could spend weeks searching for the perfect combination shades of two neighboring colors, "I am excited by the color, coloring, harmony of colors. There are artists that are interested in line, rhythm, shape. I am enjoying the most the combination of colors and their unique harmony found in nature." (From the conversation between V. Gavrilov and E. Mozhuhovskaya, p. 96 V. N, Gavrilov, Hudozhnik RSFSR, 1989, Leningrad.)
A good example of his complex colouring, and a much loved painting in Russia, is 'A Fresh Day' of 1957 in the Tretyakov Gallery.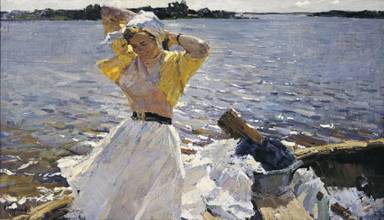 A Fresh Day, 1957, Vladimir Gavrilov, Tretaykov Gallery.
Back to Russian Art