World champion weightlifter Yuri Vlassov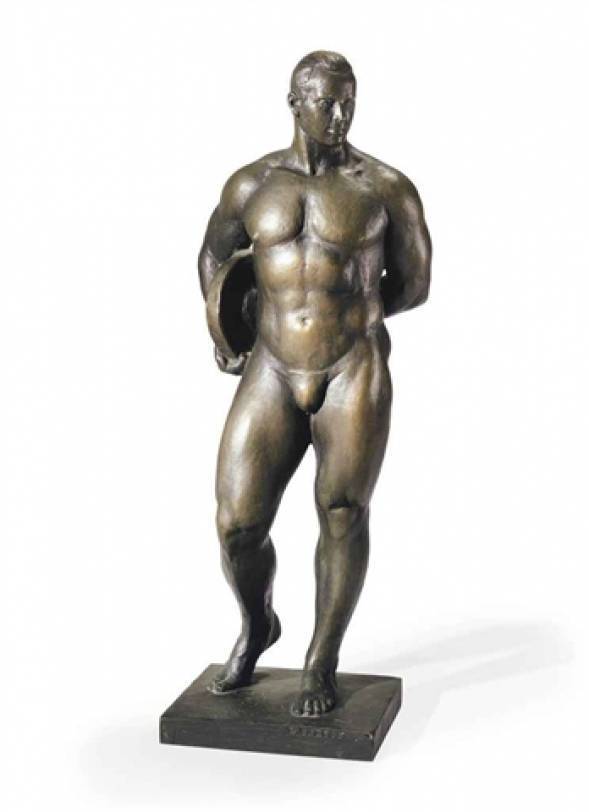 Manizer, Matvej Genrikovich
1891 - 1966
World champion weightlifter Yuri Vlassov
Bronze - dark patination
37.5cm high
1957
Inscribed 'Yu Vlasov' on front and (cast by) 'SK Ivanov, 57' on reverse.
PROVENANCE:

Private collection, St Petersburg
BIBLIOGRAPHY:

Matvej Manizer was one of the leading sculptors of the Soviet period alongside Shadr, Mukhina, Vuchetich and Konenkov. He was born in St. Petersburg. As a student Manizer attended the State Artistic and Industrial Academy there, and the art school of the Peredvizhniki from 1911 through 1916. From 1926 he was a member of the Association of Artists of Revolutionary Russia. In 1941 he moved to Moscow.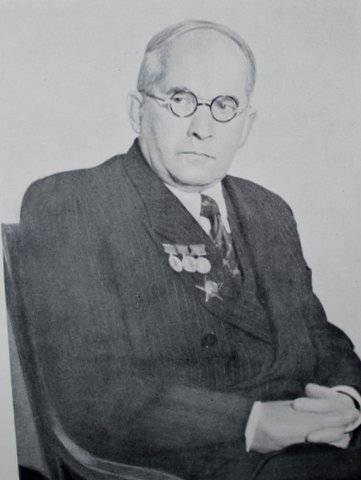 Matvej Manizer
Working in an academic and realistic style, Manizer produced a great number of monuments situated throughout the Soviet Union, including some twelve portrayals of Lenin. Manizer was awarded the People's Artist of the USSR (1958), Member of USSR Academy of Arts (1947), vice president of USSR Academy of Arts (1947-1966), chairman of the Saint Petersburg Union of Artists from 1937 to 1941, and winner of the Stalin Prize three times.
Manizer's wife Elena Alexandrovna Yanson-Manizer (1890-1971) was a sculptor in her own right, with work at the Dynamo station of the Moscow Metro. Their son Hugh Matveyevich Manizer (born 1927) is a noted painter. Among Manizer's students was the Stalin Prize-winning Fuad Abdurakhmanov.
Manizer is buried in the Novodevichy Cemetery of Moscow.
[edit]
Reference
Biography
Yury Vlasov was born in Makiivka, Ukrainian SSR to the family of a military journalist and Komintern agent in China Pyotr Vlasov. Later his father worked as the General Consul in Shanghai, then the Ambassador to Burma.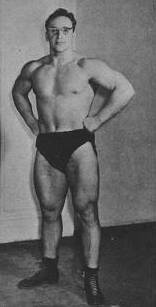 Yury studied at the Saratov Suvorov military school (1946–1953), then at the Zhukovsky Air Force Academy in Moscow, from which he graduated with a Gold Medal in 1959. In Academy he became interested in weightlifting, joined Armed Forces sports society and soon became Master of Sport of the USSR (1957). Between 1959 and 1963 he won all the competitions he participated in, with a huge success at the Rome 1960 Summer Olympics where he beat the world records three times, becoming the first man to clean and jerk more than 200 kg (202.5). He was proclaimed the best sportsmen of the 1960 Olympics and the "Strongest Man on the Planet". He was considered a nerdish intellectual in rim glasses, going against the stereotypes attached to weightlifting.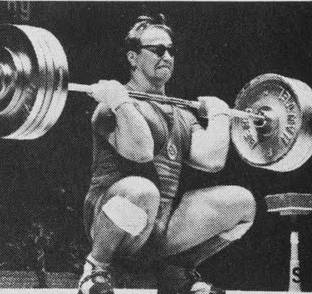 At the 1964 Summer Olympics he finished second, after another Soviet weightlifter, Leonid Zhabotinsky, and retired from the Olympic Team.
Weightlifting achievements
Olympic champion (1960);
Silver medalist in Olympic Games (1964);
Four-time senior world champion (1959, 1961–1963);
Silver medalist in Senior World Championships (1964);
Six-time consecutive senior European champion (1959–1964);
Set thirty four world records during career.
Medals
Olympic medal record
Men's weightlifting
Competitor for Soviet Union
Olympic Games
Gold
1960 Rome
+90 kg
Silver
1964 Tokyo
+90 kg
World Weightlifting Championships
Gold
1959 Warsaw
+90 kg
Gold
1961 Vienna
+90 kg
Gold
1962 Budapest
+90 kg
Gold
1963 Stockholm
+90 kg
Silver
1964 Tokyo
+90 kg
European Weightlifting Championships
Gold
1959 Warsaw
+90 kg
Gold
1960 Milan
+90 kg
Gold
1961 Vienna
+90 kg
Gold
1962 Budapest
+90 kg
Gold
1963 Stockholm
+90 kg
Gold
1964 Moskva
+90 kg
USSR Weightlifting Championships
Bronze
1958 Stalino
+90 kg
Gold
1959 Moscow
+90 kg
Gold
1960 Leningrad
+90 kg
Gold
1961 Dnepropetrovsk
+110 kg
Gold
1962 Tbilisi
+110 kg
Gold
1963 Moscow
+102.5 kg
Summer Spartakiad of the USSR
Gold
1959 Moscow
+90 kg
Gold
1963 Moscow
+102.5 kg
Career after retiring from weightlifting
After retiring from weightlifting he became a writer and a politician. Due to his damaged spine, for a few years he could not walk and moved in a wheelchair.
He is the author of several books Overcoming yourself, Salty Joys, The Special Region of China (about his father), Flaming Cross, Rus' without a leader, etc.
Between 1968 and 1976, he published his works in the Soviet Union. But after his work (Flaming Cross) was published in the West, he was considered a mild dissident and was not published in the Soviet Union.
In 1987, after Mikhail Gorbachev became the leader of the Soviet Union, Vlasov became chairman of the Federation of Athletic Gymnastics of the USSR.
He was elected to the Congress of People's Deputies for the Lyublyansky district of Moscow in 1989 and broke from the Communist Party. In parliament he started as a member of the liberal Inter-regional Deputies Group, along with Andrei Sakharov, Anatoly Sobchak and Boris Yeltsin, but later became close to nationalists and Christian Democrats.
In 1993, he was elected to the State Duma of the Russian Federation. He was a candidate in the 1996 Russian presidential election but only received 0.20% of the vote (the second-to-last result amongst the ten participants). Following this he apparently retired from politics.
In 2004, at age 69, he took part in veteran's competitions and was able to lift 185 kg.
References
External links
There is a life size plaster version by Manizer of this bronze which is now kept in the Manizer museum in Moscow.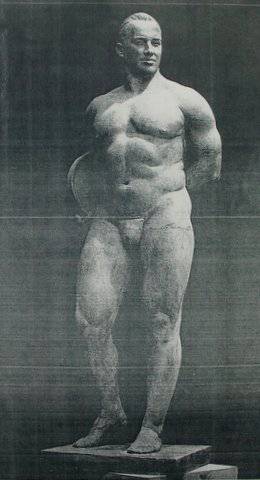 Yuri Vlassov, plaster, life size, 1961, Manizer Museum.
Bronzes of leading Soviet athletes such as this fine example of 'World Champion Yuri Vlassov' are an important part of Soviet art history. Vlasov was a remarkable man, firstly as an athlete and later as a writer and politician. This bronze, in perfect condition with its original patina, is an important example of a Soviet bronze by one of Russia's most famous 20th century sculptors.
Back to Notable Sales