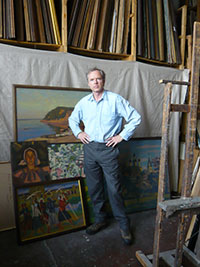 Ivan Lindsay in Victor Ivanov's studio, Moscow, 2007
Lindsay Russian Art
Lindsay Russian Art is an art dealership that specialises in 20th century Russian paintings and sculpture with a particular interest in art created during the Soviet period.  The business was started in 2004 as a division of Lindsay Fine Art Ltd that which was founded in 1990 to deal in Old Master paintings.
Ivan Lindsay
The business is run by Ivan Lindsay who was educated at Eton College and the Royal Military Academy Sandhurst.  Lindsay spent 4 years in the British Army and is from the Scottish clan Lindsay who started collecting art after the success of their Lancashire coal mining business in the 19th century.
More on Ivan Lindsay…
Lindsay became interested in Russian art whilst travelling in Russia to research his mother's ancestors, the Vorontsovs, former Chancellors in Imperial Russia.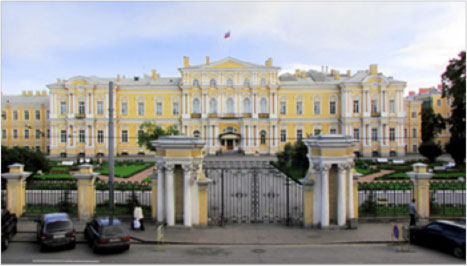 Vorontsov Palace in St Petersburg
More on the Vorontsov family….
The business
Lindsay Fine Art Russian acts as agent for sellers and holds a stock of Russian paintings and sculpture. Advice is available to collectors on all aspects of collecting. Auctions and private sales are monitored worldwide. We have an extensive network of curators, dealers, restorers and collectors.
We are looking to acquire Russian artworks of the 20th century with a particular interest in:
Russian Impressionists including Konstantin Korovin, Abram Arkhipov, Ilya Mashkov and Petr Konchalovsky
Moscow school artists from the 1930′s to the 1970′s such as Aleksandr Samokhvalov, Alexander and Sergei Gerasimov, Arkadi Plastov, Vladimir Stozharov, Geli Korzhev, Valentin Sidorov, Victor Ivanov and the Tkachev brothers
Moscow-based sculptors from 1920′s to the 1960′s including Vera Mukhina, Ivan Shadr, Aleksandr Matveev, Joseph Chaikov, Sergei Konenkov, Evgeny Vuchetich, Matvei Manizer, Sara Lebedeva and Ekaterina Belashova
Lindsay Fine Art Russian provides:
a discreet alternative to the publicity of the auction room
good contacts with many of the world's leading museums and private collectors
world-wide consultation to buyers and sellers
assistance in Russian
Lindsay Fine Art Ltd offers advice on:
buying & selling
pricing & authenticity
bidding at auction
condition & restoration
framing & hanging
import & export
shipping & insurance
11,039 total views, 2 views today