A new museum for Moscow devoted to Russian Realism
Oct 11th, 2012 | By
Ivan Lindsay
| Category:
Journal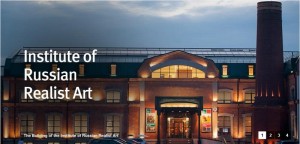 A new museum devoted solely to Russian and Soviet realist art from the 20th and 21st centuries has opened in Moscow,  The IRRA or Institute of Russian Realist Art.
The institute has been put together by Russian businessman and billionaire Alexei Ananyev, who began collecting Russian realist paintings in 2001. Ananyev now has a collection of several thousand works, including works by Sergey Gerasimov, Arkady Plastov, Alexander Deineka, Yuri Pimenov, Victor Popkov, Alexei Gritsai, Yuri Kugach, brothers Alexey and Sergey Tkachev, Geli Korzhev, Grigory Chainikov, Igor Popov, Vasily Nechitailo, and Vladimir Stozharov.
The current exhibition spans the scope of Russian and Soviet realist art, from Impressionism to Socialist Realism and contemporary styles and is just a fraction of Ananyev's collection which is considered one of the best collections of paintings of Russian and Soviet realist school of the twentieth century.
The museum is huge, occupying over 4,500 square meters (nearly 15,000 square feet) of space on four levels of a former cotton print factory – a 19th-century red-brick building with a tall red-brick chimney, and will rotate around 500 works of Soviet period art from Ananyev's collection.
PR and marketing director Nadezhda Stepanova said the institute was in many ways envied by its colleagues at the Tretyakov – something that Natalia Alexandrova, head of the second half of the 20th century at the Tretyakov Gallery, did not deny.
"I do," she said in a phone interview, when asked if she envied it. "Primarily for the scale of the collection. At the Tretyakov we only have three halls of such art. … Ananyev's exhibition consists of about 500 works, and his collection several thousand – a very large volume."
As for quality, she said the Tretyakov's was superior, but the IRRA's main strength was in the way it created context, with the inclusion of regional artists whose work few people had seen before.
Stepanova said the IRRA was, "not simply a 'museum. We don't even call it one. In the next few years the Institute of Russian Realist Art plans to become a base for serious art research. We will have our own media library, lecture hall, restoration workshops. In a year or two we will introduce a system of grants for students of art schools. We very much want this period and style of Russian art to become known to more people, so that Russia will see the appearance and development of masters working in a realist manner, so that the school of Repin, Levitan, and Surikov will find its continuation in the young generation of artists."
Alexei Ananyev
The head of the advisory board at Technoserv, and co-founder and chairman of Promsvyazbank, Ananyev is Russia's 48th-richest businessman according to Forbes' 2011 ranking, which estimates his wealth at $1.9 billion. He has big plans for IRRA.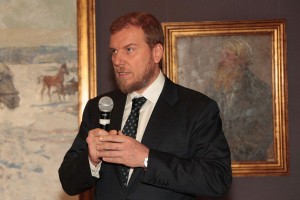 "I started collecting Russian realist paintings about 10 years ago. The trigger, apparently, was the moment when I came across a collection of Russian realist paintings held by one of my European business partners, which he had gathered in the early '90s. I realized that what was on the canvases meant much more for me than for anybody in the West – they were the realities and facts of my childhood and youth, and no less importantly, they were remarkable pieces of art too. So I decided to start collecting contemporary Russian realist paintings, at least for personal use and pleasure, and to secure some of the works from being exported. Very shortly the scope of my collector's activities and the size of the collection went beyond the capacity of a home exposition.
I cannot possibly determine which of the paintings is my favorite. They are so different and each of them is exceptional in its own way. But I can definitely say who are my favorite painters, and they are almost all those represented in the collection. That's because I have not bought anything that I did not like. Of course, there are prominent works of such personalities as Korzhev, Viktor Ivanov, Zhilinsky, Salakhov, the Tkachevs and Kugach who are landmarks of Russian art of the second half of the 20th century, but at the same time there are masterpieces of their predecessors like Plastov, Nissky, Pimenov, Sergei Gerasimov and many others, so it is practically impossible to choose the one."
"One of the main functions of the Institute is to educate. "I believe that the national realist art is wrongly forgotten while it is, without exaggeration, an object of national pride", – says the collector. – It is important that people should understand that the term "modern" is not the synonym of "abstract", "conceptual" or some other kind of art that denies the classic painting school."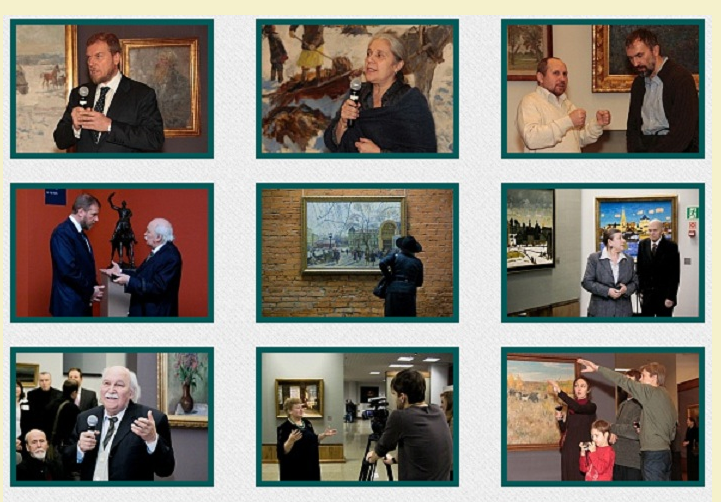 Images from the opening
The halls of the first floor familiarize viewers with present-day life in Russia, including works by such famous members of the Moscow school of painting as Viktor Kalinin, Alexey Sukhovetsky, Vladimir Telin, Nikolay Zaitsev, Vyacheslav Stekolschikov, Nikolay Solomin; the works of outstanding Leningrad painters Andrey Mylnikov, Yevsey Moiseenko, Boris Ugarov, Vyacheslav Zagonek; and artists from Vladimir, including Kim Britov, Vladimir Yukin and Mikhail Izotov. Works by artists from Kostroma, Yaroslavl, Vologda, Vyatka, Sergiev Posad, Krasnoyarsk, Nizhny Novgorod and other Russian cities are also on display.
The second floor of the Institute of Russian Realist Art displays the Soviet art collection of the second half of the 20th century. At its center are works by the major painters of the 1960s including "National Artists", and full members of the Russian Academy of Arts Gely Korzhev, the brothers Sergey and Alexey Tkachev, Viktor Ivanov, Petr Ossovsky, Dmitry Zhilinsky and Tair Salakhov. The painters of this generation have continued the traditions of Russian artistic culture, and many of them, like Viktor Popkov, have dedicated their works to dramatic events in the contemporary life of Russia, with all of its difficulties and contradictions.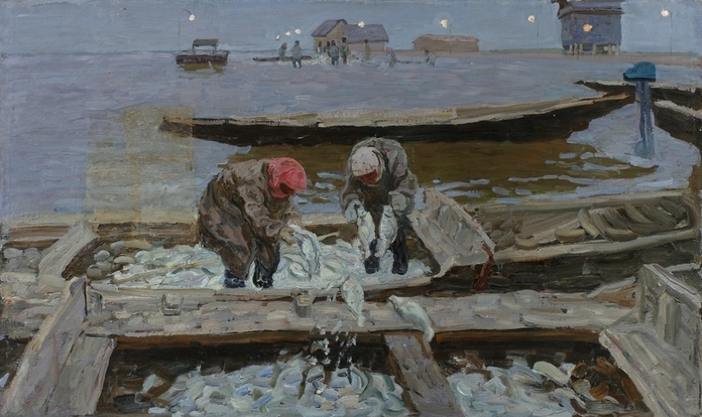 Alexey Tkachev, 'Fishermen of the Caspian,' 1965, oil on canvas.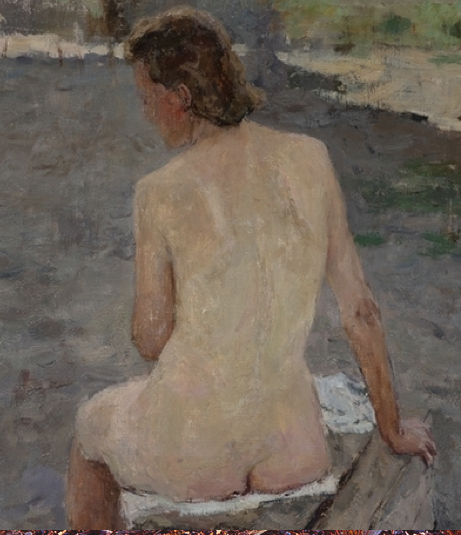 Igor Popov, 'Nude,' (detail), 1948, oil on canvas.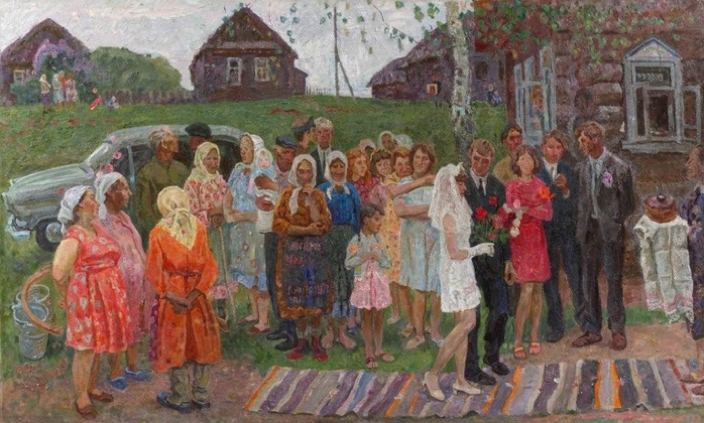 Sergey Tkachev, 'The Newlyweds,' 1974, oil on canvas.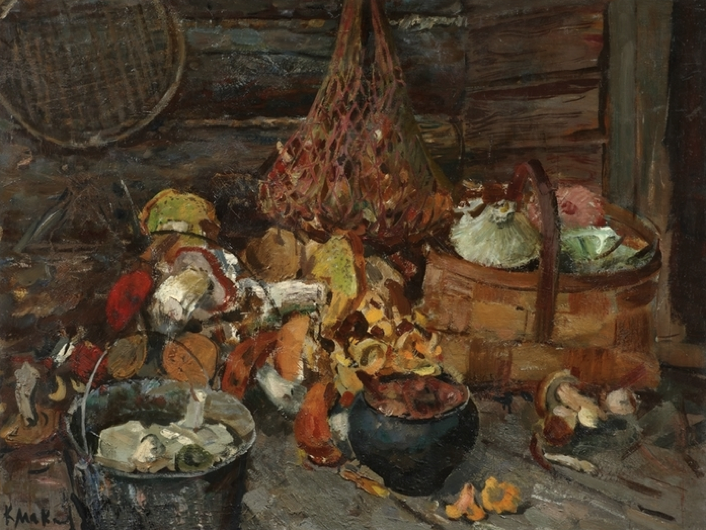 Konstantin Maksimov, 'Still Life with Mushrooms,' oil on canvas.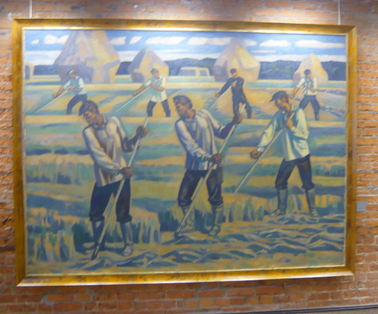 Victor Ivanov, 'Harvesting.'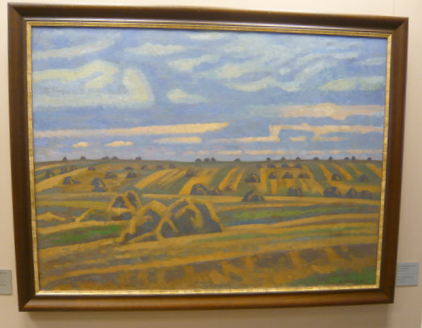 Victor Ivanov, 'Landscape.'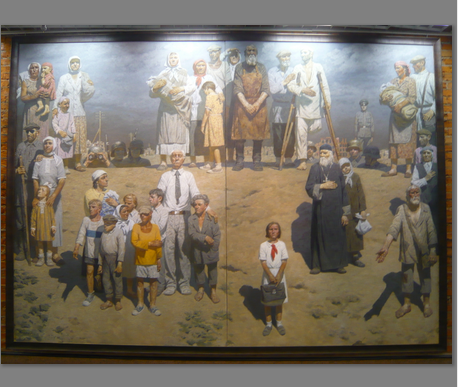 Geli Korzhev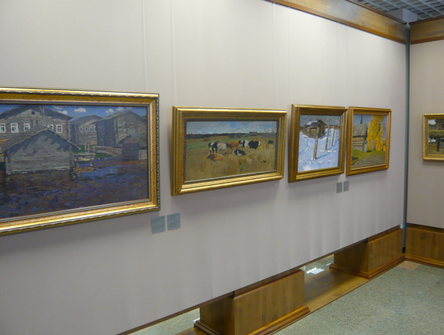 Vladimir Stozharov and Aleksei Gritsai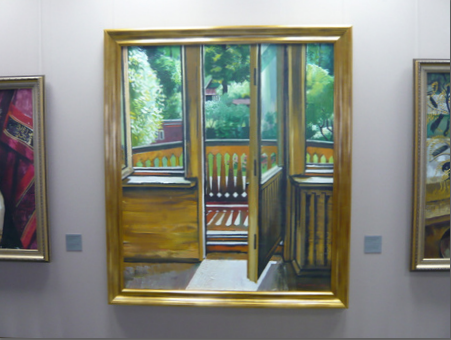 Tair Salakhov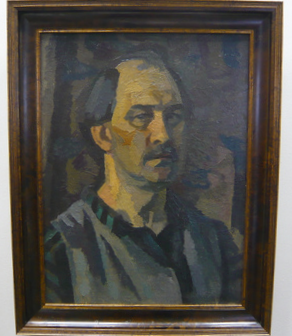 Victor Ivanov, 'Self Portrait.'
The halls of the third floor display one of the most important sections of the museum collection, Soviet art from the first half of the 20th century, including works by outstanding figures such as Arkady Plastov, Sergey Gerasimov, Alexander Deineka, Yury Pimenov, Georgy Nissky, Isaak Brodsky and other painters.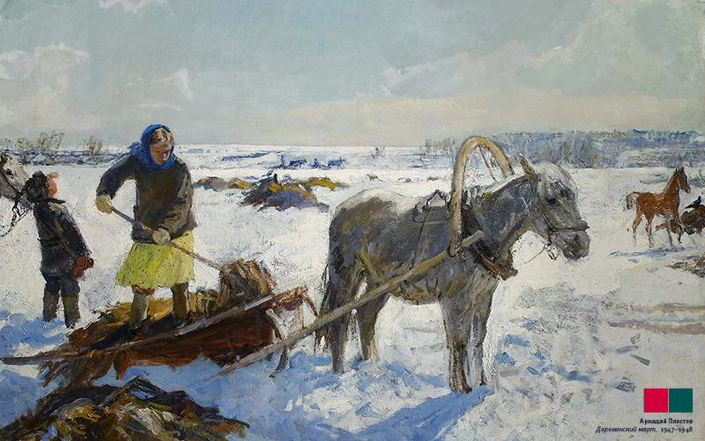 Arkadi Plastov, 'A Village,' 1947, oil on canvas.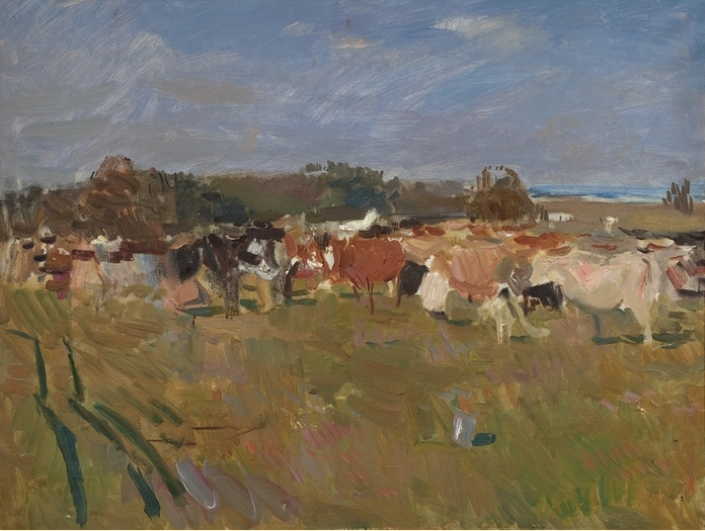 Sergei Gerasimov, 'Herd', 1950's, oil on canvas.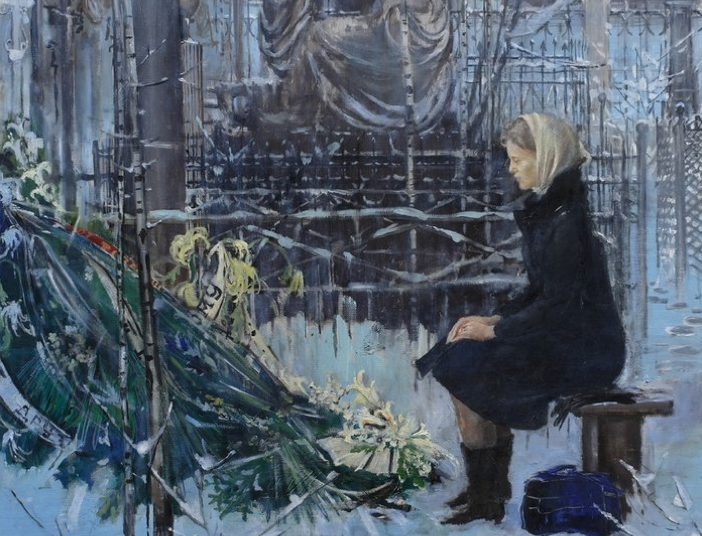 Yuri Pimenov, 'Twilight,' (detail), 1966, oil on canvas.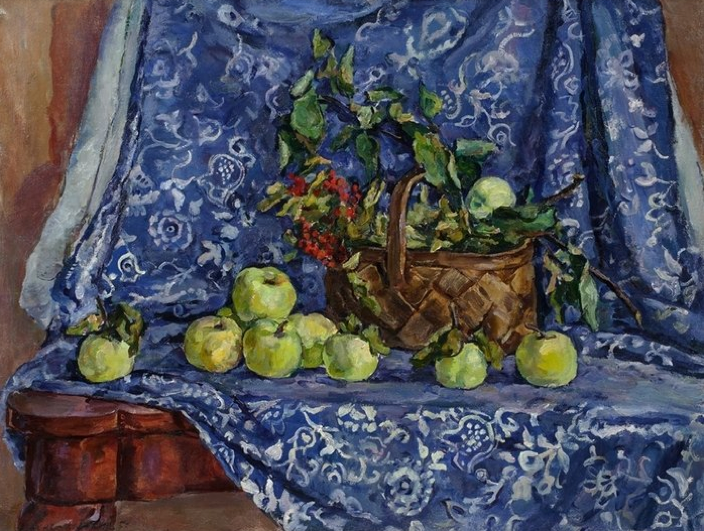 Mikhail Konchalovsky, 'Still Life with Apples,' oil on canvas.
IRRA, Institute of Russian Realist Art, Moscow.
I am grateful for Stephen Justesen of McCarthy Gallery for providing the majority of the above images and text.