Contemporary Art Market defies gravity…for now
Nov 16th, 2012 | By
Ivan Lindsay
| Category:
Journal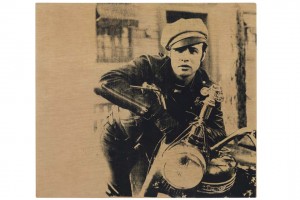 Christie and Sotheby's achieved a billion dollars in sales this week in two New York record sales of contemporary art.  This area of the art market suffered badly in the early days of the recession but appears to have made a stellar recovery.  However, many dealers are nervous about these astonishing prices being paid whilst the recovery in the economy seems far from certain.  The contemporary art market has always been the most speculative part of the art market with major gains and falls.  Since time is the only true art critic it is always a gamble which artists will stand the test of time.  Many artists of the past who were famous in their day are now forgotten.  However for those brave enough to play this game it can be quite a spectacular ride as was seen this week.
Late Wednesday, Christie's blew achieved what it said was the highest-grossing contemporary auction ever, raising $412.24 million dollars. "This evening's sale set a new record total for any Post-War and Contemporary Art sale. Over the past six years, Christie's has led this market first over the $200 million, then over the $300 million, and now over the $400 million barrier," crowed Brett Gorvy, head of contemporary art. The highest price was a canvas of violent black brushstrokes by abstract expressionist Franz Kline that sold for $40.4 million, four times his previous auction record price. Christie's had estimated the painting would go for between $20 million and $30 million. The result pushed Kline into the leading ranks of the abstract expressionist market, alongside artists such as Mark Rothko. Andy Warhol's "Statue of Liberty" sold for $43.76 million, while another Warhol, "Marlon," (illustrated above)which depicts the actor Marlon Brando in a familiar brooding pose from the movie 'The Wild One,' sold for $23.7 million, high above the estimate.
Jeff Koons', the darling of this market which appears to adore his kitsch and vapid works, saw his sculpture "Tulips," featuring his trademark shiny, colored metal, fetched $33.7 million, while a Roy Lichtenstein, "Nude with Red Shirt," sold for $28 million, far above the $18 million high estimate.
A work by Jean-Michel Basquiat, another artist of this period in high demand, had a work that went for $26.4 million, while Rothko's "Black Stripe (Orange, Gold and Black)," went for $21.4 million, just above the high estimate. Gerhard Richter's "Abstraktes Bild (779-2)," estimated at $12-18 million, sold for $15.3 million.
The excitement at Christie's near Manhattan's Rockefeller Center was nearly matched the previous evening at Sotheby's, further uptown. Total sales on Tuesday reached $375.15 million, "the best auction result in any category in the company's history," triumphed Sotheby's. The combined estimates of all lots had been between $277-374 million. "This has been an extraordinary year for contemporary art at Sotheby's," said Tobias Meyer, Contemporary Art head at Sotheby's. "Tonight's record results bring our 2012 total to well over $1 billion." There, the big star was Rothko's "No. 1 (Royal Red and Blue)," which sold for $75.1 million. The work described by Sotheby's as Rothko's "seminal, large-scale masterpiece" was selected by the artist for his landmark 1954 solo show at the Art Institute of Chicago and had been in the same collection for 30 years before coming to market. The winning bid, reached after a prolonged bidding battle in New York, was short of the record $86.9 million paid for Rothko's "Orange, Red, Yellow" at Christie's in May. But it was wildly over the pre-sale $35-50 million estimate. Also notable was Jackson Pollock's "Number 4, 1951," estimated at $25-35 million and selling for $40.4 million, easily breaking his previous $23 million. By contrast, the big sales last week of Impressionist art were considered poor, with a third of lots failing to sell — even if Sotheby's did manage to sell the ever popular Picasso's 1932 "Nature morte aux tulipes," for $41.5 million.
So for the time being this amazing market continues its ascent.  It even attracted new buyers such as the Nahmad family who normally stick to earlier classics of the Picasso/Matisse generation.  They bought the Warhol of Brando for $23.7m after a spirited 8 minutes of bidding against Christie's Chairman Bret Gorvy who was taking bids from a client on the telephone and at one point threw out a sheepish $100,000 over $20 million, a bid that elicited a disappointed look from Mr. Pylkkänen and laughter from the room.
"It's an absolutely iconic work," said Joseph Nahmad after the sale. "It's such a sexy pose."  It was certainly a sexy price for the previous owner who has bought it for $5m in 2003 at Christies.  It had also sold for just $1,7m in 1997 showing the amazing gains made in the Warhol market.
So for now, the contemporary market remains firmly on its dizzy upward trajectory but whether this is sustainable is doubtful and this remains a market to be approached with extreme caution.