In Memoriam: Geli Mikhailovich Korzhev (1925 – 2012)
Aug 31st, 2012 | By
Ivan Lindsay
| Category:
Journal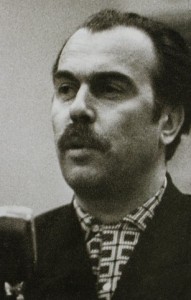 Geli Mikhailovic Korzhev, prominent 20th century Russian painter, died this week after losing his leg recently.  Russia lost one its most important and interesting artists of the second half of the 20th century.
Born in 1925 in Moscow, Korzhev's philosophy and art was influenced by the social context and standards that defined life in the Soviet Union. Evacuated as a teenager from Moscow during the Second World War, Korzhev later graduated from the prestigious Surikov Institute in 1950.
Korzhev was a teacher at the Stroganov Institute of Art in Moscow and a member of the Union of Soviet Artists. In 1968, he became the chairman of the Moscow branch of that organization. His paintings are part of major Russian collections and have been displayed in North America at the Smithsonian Institution, the Guggenheim Museum, and other institutions.
In 2007, The Museum of Russian Art staged the first retrospective of Korzhev's work held in America. In collaboration with curators at the State Russian Museum (St. Petersburg) and the State Tretyakov Gallery (Moscow), Raising the Banner: The Art of Geli Korzhev featured 61 paintings from throughout Korzhev's career.
The Tretyakov Gallery tried to persuade Korzhev to hold a retrospective for many years but he always declined…for reasons known only to himself…perhaps it will happen now.
To see more of his work:- http://www.artlib.ru/index.php?id=11&fp=2&uid=261
Geli Korzhev Installation at The Museum of Russian Art (TMORA)
Korzhev was part of the post WWII Moscow School and a leading member, along with Victor Ivanov and Petr Ossovsky, of the so – called 'Severe School.' This was partly a reaction against the smiling faces and happy workers of the Socialist Realism school which they felt was inappropriate in austere post war Moscow.  His work incorporates, nudes, portraits, landscapes, fantasies with strange creatures and social documentaries.  Religious works in the Christian tradition dominated his later work when his mortality and legacy began to dominate his thinking.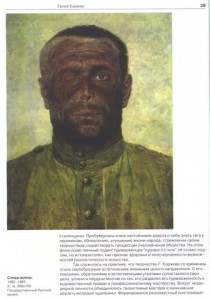 There are major collections of the his work at the Tretyakov gallery, the Russian museum and the Anniev Museum in Russia and TMORA in the USA.
Korzhev, who professed to be a communist until the end, liked to talk about subjects ranging from Rembrandt to his own entrenched views on art.  He was a dedicated artist who liked to paint every day even up until the end.  He preferred talking to selling his paintings and many a collector came away disappointed and empty handed from the artist's studio having spent a few hours listening to Korzhev holding court.