Russian art sales week starts November 25th in London
Nov 17th, 2012 | By
Ivan Lindsay
| Category:
Journal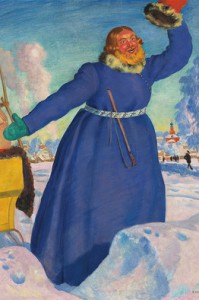 MacDougall's auction house kicks off London's Russian sales week with its auction on November 25th.  This week of sales devoted to Russian art happens twice a year…the other week is in late June, and it brings many of those interested in acquiring Russian works of art to London.  The sales consist of paintings, sculpture and objets d'art including a selection of the ever popular Faberge.
"Russian collectors like to buy in London, where they often have houses," says William MacDougall, director of MacDougall's auctions, which specialises in Russian art and has auctions on Nov. 25 and Nov. 28. Christie's holds its sale on Nov. 26, Sotheby's BID -1.45% on Nov. 26-27,  and Bonhams on Nov. 28.
One of the more important paintings is Boris Kustodiev's 1923 painting "The Coachman" (shown left) offered by Christie's which depicts a cartoonish Russian in a blue winter costume waving his hat.  Too kitsch for some this artist is popular with the Russians and will probably sell well as it has a solid provenance which is so important in Russian paintings.  "The painting is a celebration of Russian character," says Sarah Mansfield, head of Christie's Russian art department. "The Coachman," which has never appeared before at auction, was part of the famous 1924 "Russian Art Exhibition" in New York from which several paintings have emerged recently.  This exhibition was the first showing of the country's art outside of Russia after the 1917 revolution. "The exhibition was a roll-call of the most important Russian artists at the time," notes Ms. Mansfield. "The Coachman" was chosen for the exhibition's poster. The painting comes from the collection of the late Nobel Prize winner Peter Kapitza (1894-1984), a friend of the artist and is estimated at £1.5 million-£2 million.
A striking painting at MacDougall's is Nicholas Roerich's "Sharugön" (1928). Estimated to fetch between £380,000 and £600,000 (€475,000-€750,000), it shows a Tibetan monastery in shimmering gold against severe, intense-blue mountains—suggesting, the catalog says, that "spiritual lore transforms even the harshest environment." Ivan Aivazovsky's "View of Venice. San Giorgio Maggiore" (1851), a tranquil painting in blues and pinks by Russia's most famous marine artist, is expected to achieve between £950,000 and £2 million. San Giorgio Maggiore, Palladio's masterpiece which sits in the Venetian Lagoon opposite St Marks Square and the Doges Palace was a favorite subject for artists from Canaletto onwards.  Konstantin Somov's "Rendezvous" (circa 1918) will add a light touch, as a harlequin and a lady in azure-blue cavort (estimate: £270,000-£400,000). This is a "typical Somov fun piece," says Mr. MacDougall.
Another major Christie's work will be Nicolai Fechin's flirtatious "Portrait of Mademoiselle Podbelskaya" (1912), a favorite Fechin model (estimate: £800,000-£1.2 million). The artist migrated to the U.S. in 1923, where his style changed, and his portraits before this date rarely appear at auction, says Ms. Mansfield.
Sotheby's strikes an erotic note with Vasily Alexandrovich Kotarbinsky's "Roman Orgy," a panorama of naughty goings-on in ancient times (estimate: £800,000-£1.2 million). A contrasting work will be a silver-gilt and cloisonné-enamel icon of Christ from 1884 that was presented to Czar Alexander III by his elite guard after the Imperial family survived a train crash in 1888 (estimate: £180,000-£250,000).
Leading Bonhams's sale will be four works by members of Peredvizhniki, a group of 19th-century Russian artists who went out into the countryside to depict the lives of everyday people. Part of the same corporate collection, the paintings haven't been seen on the market for 78 years, says Bonhams Russian specialist Sophie Law. Top lot will be Vladimir Egorovich Makovsky's 1885 painting of "Fair (Little Russia)," of busy people on market day (estimate: £1.5 million-£2 million).
Fabergé items will be a major attraction at the sales. At Christie's, a silver drinking vessel featuring a galloping steed and falconer from around 1909 is estimated at £250,000 to £350,000. At Sotheby's, a hard stone inkwell with gold mounts (circa 1899-1903) is expected to fetch between £200,000 and £300,000. "Fabergé is the most stable part of the Russian market," says Ms. Mansfield.
The Russian economy continues to go well and its vast reserves of natural resources remain in demand.  President Putin encourages successful Russian businessmen to repatriate Russian art and there is no reason to doubt that the the demand for the best pictures in these sales will be strong.