A new Series of books published on Russian art of the Soviet period
May 7th, 2018 | By
Ivan Lindsay
| Category:
Journal
Ivan Lindsay and Rena Lavery have co-produced and co-authored a new Series of books on Soviet art, 'Art of the Soviet Union.'  There are 4 volumes on Landscapes, Still Lives, Portraits and Nudes covering paintings and sculpture. The Series is published by the Unicorn Press and edited by Katia Kapushesky.
There will a book launch at London's oldest book shop, Hatchards, 187 Piccadilly, on Tuesday 5th June, more details to follow.
Alexander Osmerkin, Nude Model, 1924, oil on canvas, 107 x 79cm, The State Russian Museum.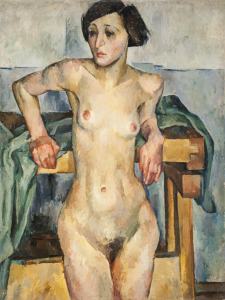 The books contain many images from little known Russian Provincial Museums and Chinese private collections.
Vladimir Lebedev, Portrait of a Woman, 1931, oil on canvas, 66 x 53.5cm, Tula Regional Museum.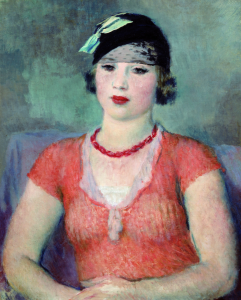 There were numerous books on Soviet art during the Soviet period.  Soviet era curators knew who were the best painters and sculptors and with the passage of time that has just become more obvious.  Most Soviet era art books are out of print and there has been little published since the end of the Soviet era and only a handful of books in English.  Most of what has been published has used the familiar stock images from the Tretyakov Gallery and the Russian museum due to the logistical problems of dealing with the Russian provincial museums.
The books cover the various art movements during the Soviet period such as the Avant Garde, the emergence of the Soviet artists in the 1930's, the second generation of Russian Impressionists in the 1940's and the Severe Style of the 1960's.
The Box Set is available on Amazon https://www.amazon.com/Art-Soviet-Union-Box-Set/dp/1910787892/ref=sr_1_5?ie=UTF8&qid=1525722104&sr=8-5&keywords=ivan+lindsay
Individual volumes are also available.
Nudes https://www.amazon.com/Art-Soviet-Union-Nudes/dp/1910787868/ref=sr_1_6?ie=UTF8&qid=1525722104&sr=8-6&keywords=ivan+lindsay
Still Lives https://www.amazon.com/Art-Soviet-Union-Still-Lifes/dp/1910787884/ref=sr_1_4?ie=UTF8&qid=1525722104&sr=8-4&keywords=ivan+lindsay 
Portraits https://www.amazon.com/Art-Soviet-Union-Portraits/dp/1910787876/ref=sr_1_2?ie=UTF8&qid=1525722104&sr=8-2&keywords=ivan+lindsay
Landscapes https://www.amazon.com/Art-Soviet-Union-Landscapes/dp/191078785X/ref=sr_1_3?ie=UTF8&qid=1525722104&sr=8-3&keywords=ivan+lindsay