The State Russian Museum in St. Petersburg – a major exhibition of Russian painters of the Second Half of the XX century, 10/7/12.
Jul 10th, 2012 | By
Ivan Lindsay
| Category:
Journal
Courtesy of Stephen Justesen of TKM gallery.
"Realism in Russian Art of the Second Half of the XX Century".
The Tkachev Brothers, Valentin Sidorov,
Vladimir StozharovAleksei Gritsai,
Sergei Gerasimov, Yuri Kugach.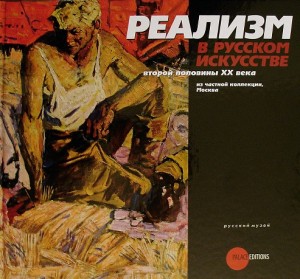 On July 4th, The State Russian Museum opened a major exhibition of Russian Realism from the Second Half of the Twentieth Century. This period of art, long neglected by Russian collectors and virtually ignored by the auction rooms, is finally starting to gain some recognition.  As the curators in the Russian museums have constantly maintained, the best artists of this period are as good as earler Russian artists.
The exhibittion features more than 100 paintings by the classic masters of  Russian Realism after the second world war – Gely Korzhev, The Tkachev Brothers, Aleksei and Sergei, Valentin Sidorov, Vladimir Stozharov, Igor Popov, Vasily Nechitailo, Aleksei Gritsay, Sergei Gerasimov, Petr Ossovskiy, Nikolay Andronov, and Yuri Kugach.
Chronologically, the exhibition covers the period from 1950 to 2000 and covers the full spectrum of the period including scenes from life in Russian villages in the works of The Tkachev Brothers and Valentin Sidorov, landscapes by Aleksey Gritsay and Sergei Gerasimov which are presented alongside works by Gely Korzhev which are full of tragic reflections on the faith of man and the social structure of society. The artists presented have in common ;-  a love for their homeland, a fine technical ability, an understanding of the difficult epoch into which they were born and a belief in truth as the guiding principle for their art.
The State Russian Museum
The State Russian Museum in St. Petersburg contains the world's largest collection of Russian art and Rivals the Tretyakov Gallery in Moscow with its numerous masterpieces.  The museum's illustrious history began when the fiercely nationalist Tsar Alexander III became the first Russian ruler to make a significant collection of art by Russian artists. His son, Nicholas II, decided to open a museum in his father's honor and, in 1895, bought the Mikhailovskiy Palace to house the collection. The Museum opened to the public in 1898.
After the Revolution, the museum benefited massively from state confiscations of privately owned artworks, and the permanent exhibition was slowly expanded to include the palace's Rossi and Benois Wings. The museum's collection includes over 400,000 artworks covering the complete history of Russian art, from 11th century icons to work by contemporary artists.
Images and Russian Press Coverage from the Exhibition Opening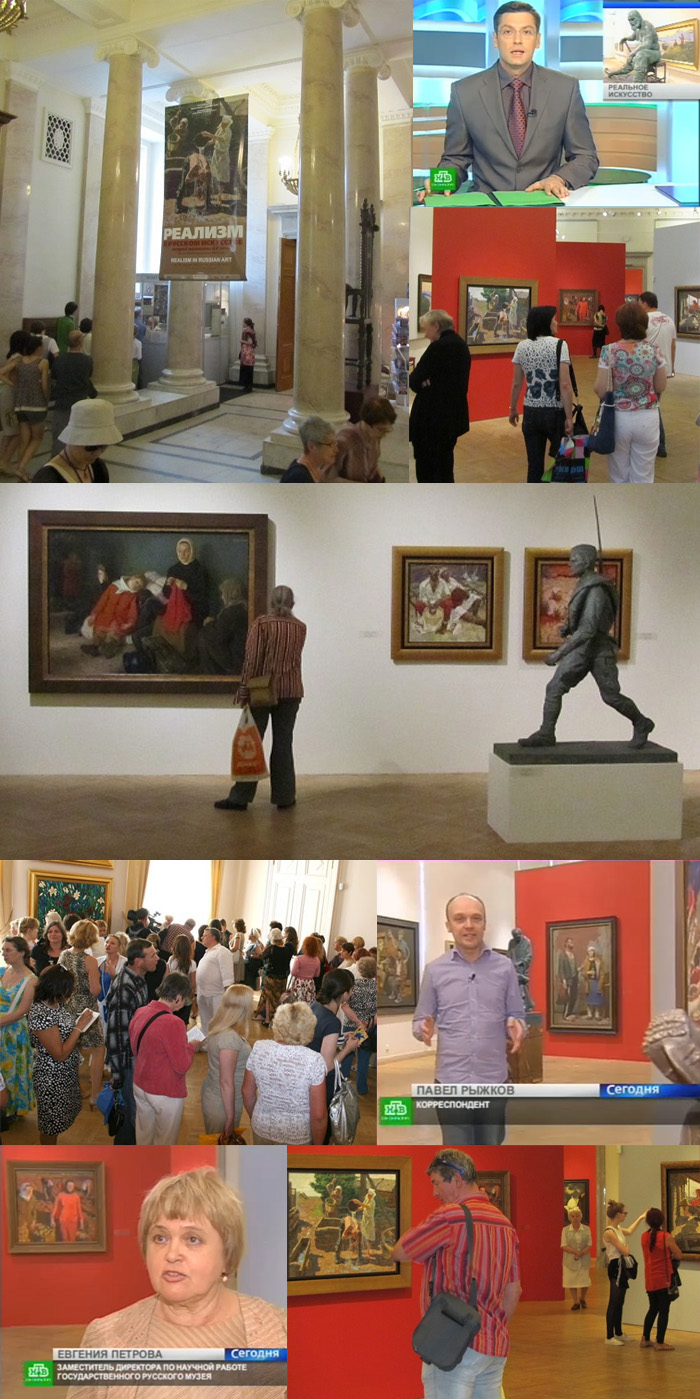 Vladimir Feodorovich Stozharov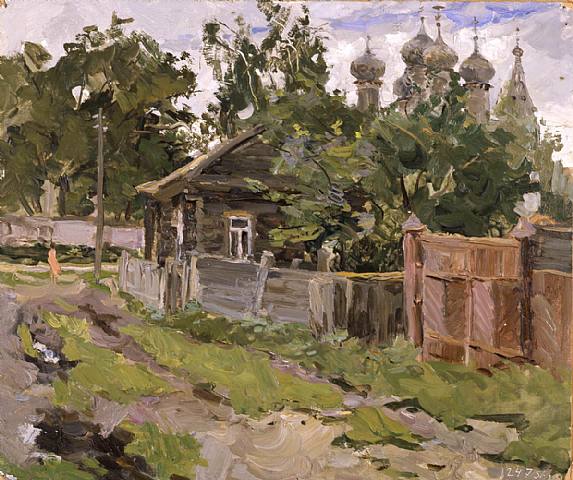 Vladimir F. Stozharov, Ipatievskaya Village, Kostroma", 1956
Vladimir F. Stozharov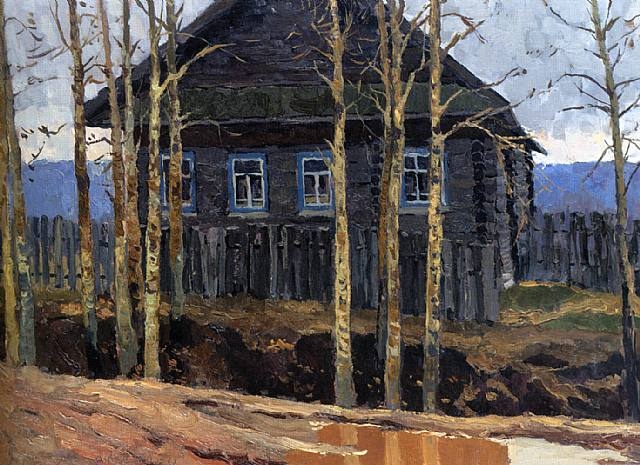 Vladimir F . Stozharov, "A house with black poplars ", 1972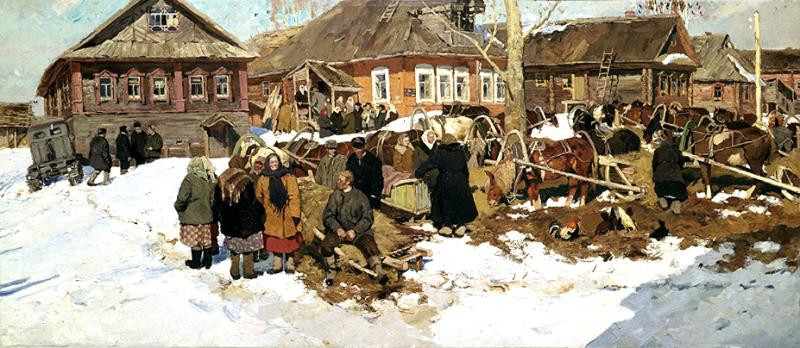 Vladimir F. Stozharov
Tkachev Brothers, Alexei and Sergei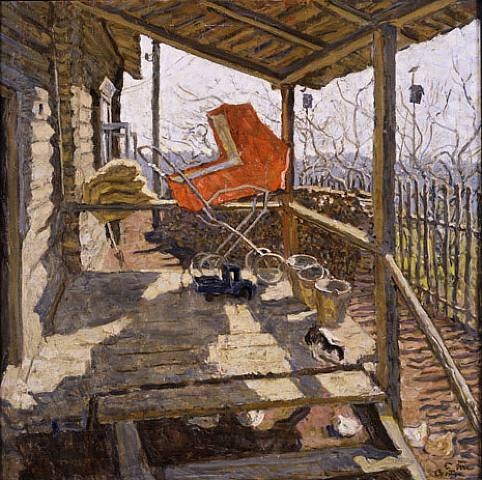 Tkachev Brothers, Alexei and Sergei, "Village Porch", 1977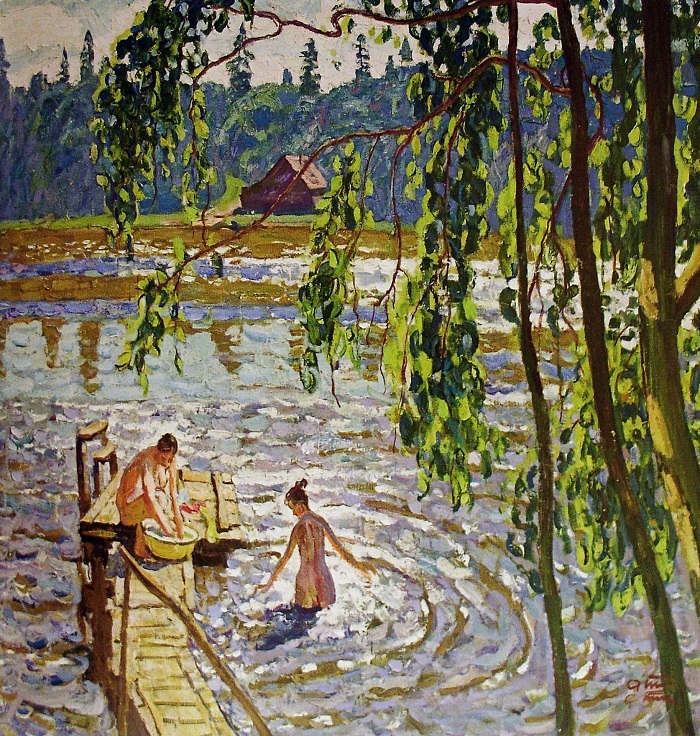 Tkachev Brothers, Alexei and Sergei, "Swimming Women", 2004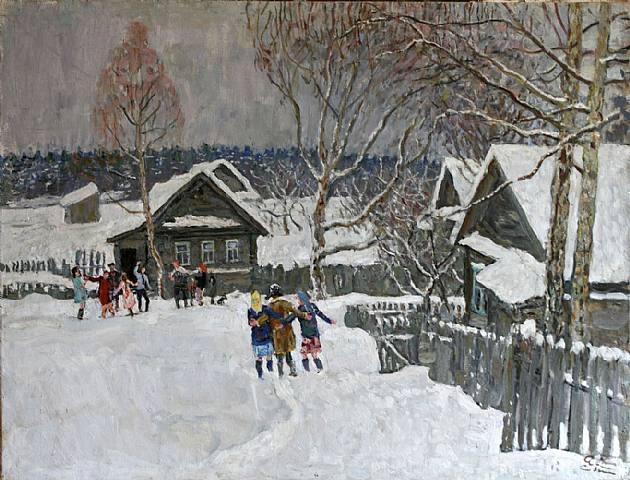 Tkachev Brothers, Alexei and Sergei, "Pancake Week", 1982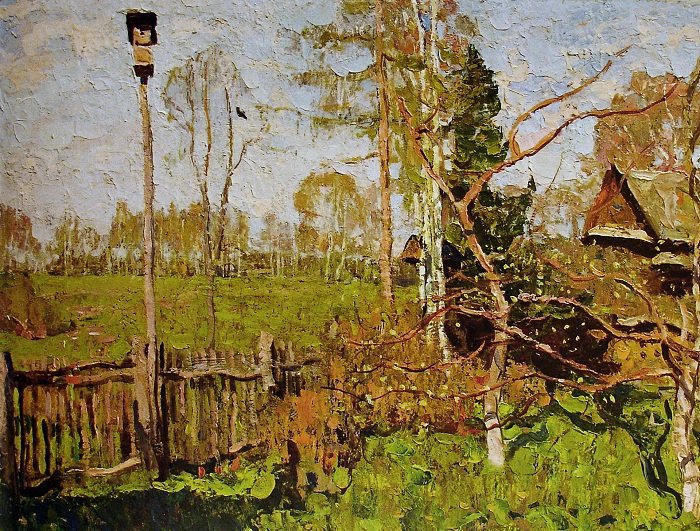 Tkachev Brothers, Alexei and Sergei, "Spring in the Village", 1981
Yuri Petrovich Kugach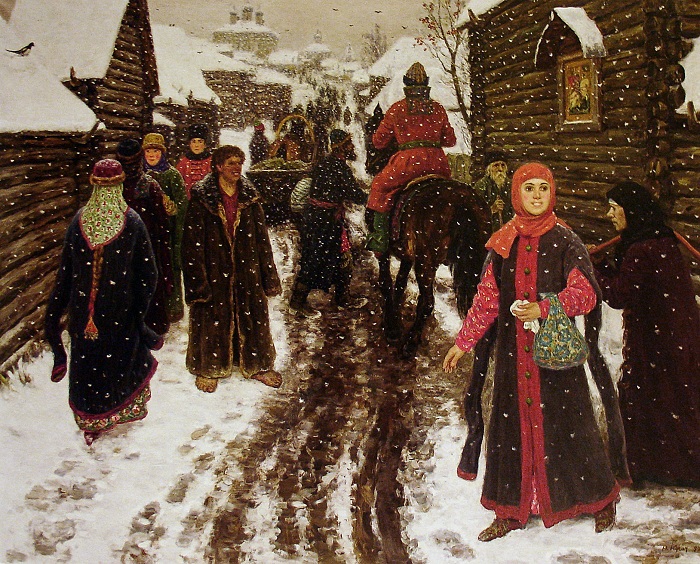 Yuri P. Kugach, "Russian Fairy Tale", 1997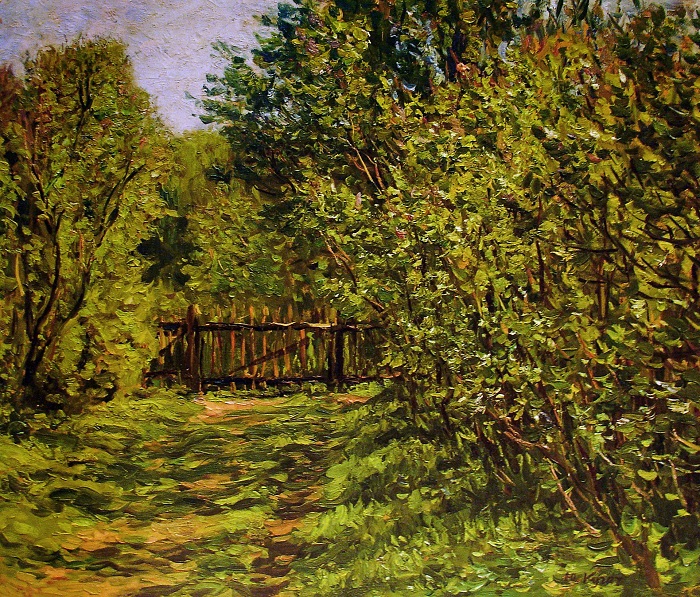 Yuri Kugach, "May Greens", 2000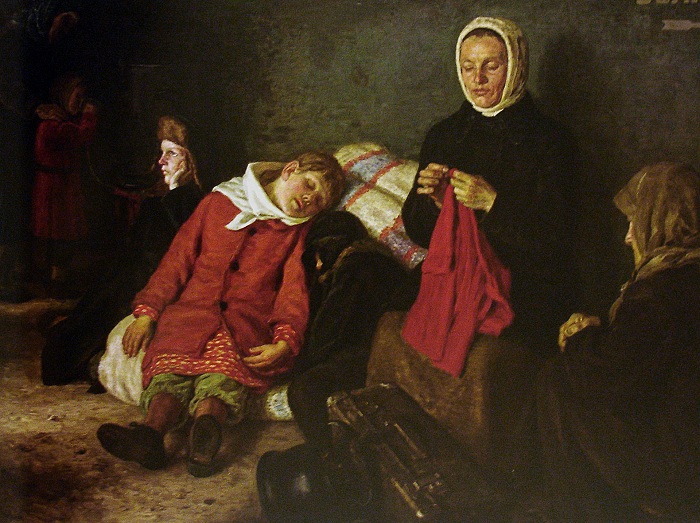 Yuri Kugach, "On the Roads of War", 1999
Alexei Mikhailovich Gritsai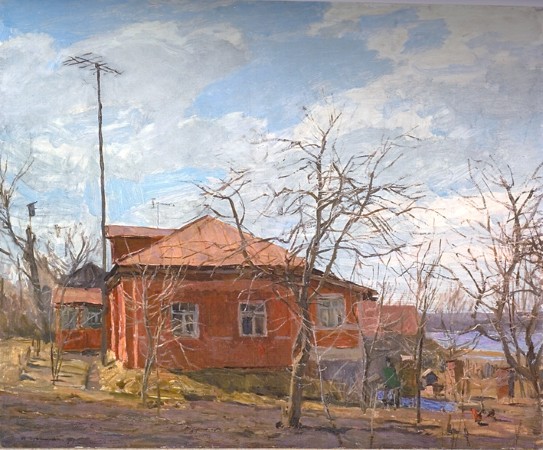 Alexei M. Gritsai, "Red House", 1979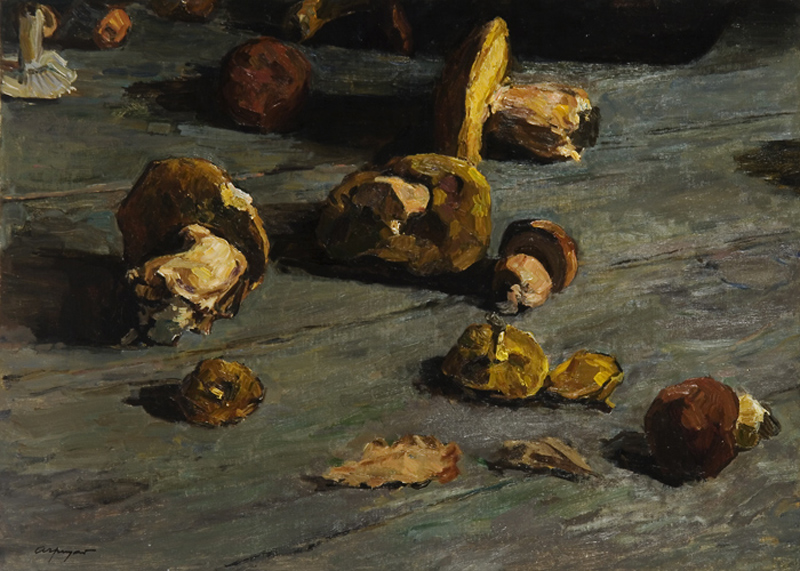 Alexei M. Gritsai, "Mushrooms", 1960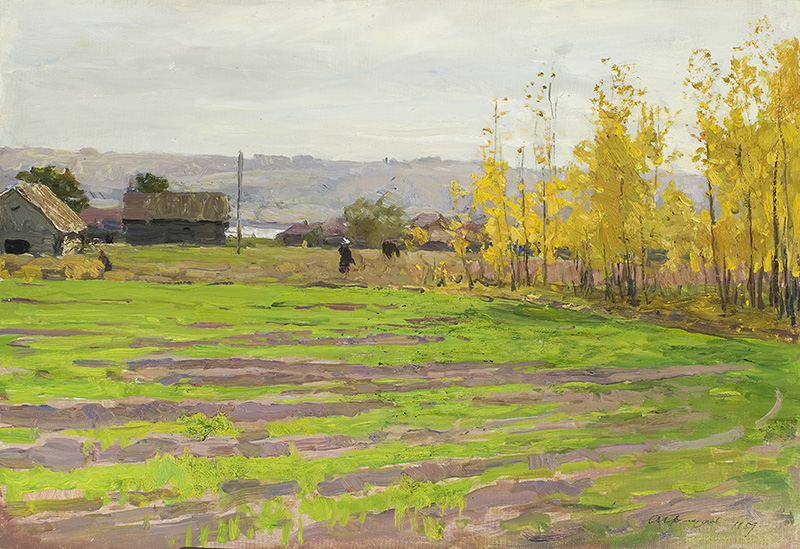 Alexei M. Gritsai, "The Autumn Day in Priluki", 1969
Realism in Russian Art of the Second Half of the XX, July 4 to October 8, 2012
The State Russian Museum-Benois Wing
St.-Petersburg, Inzhenernaya str., 4
July 4 to October 8, 2012
10 a.m. – 6 p. m. Wednesday to Sunday
10 a.m. – 5 p.m. -Monday
Closed on Tuesdays
The State Russian Museum, St. Petersburg